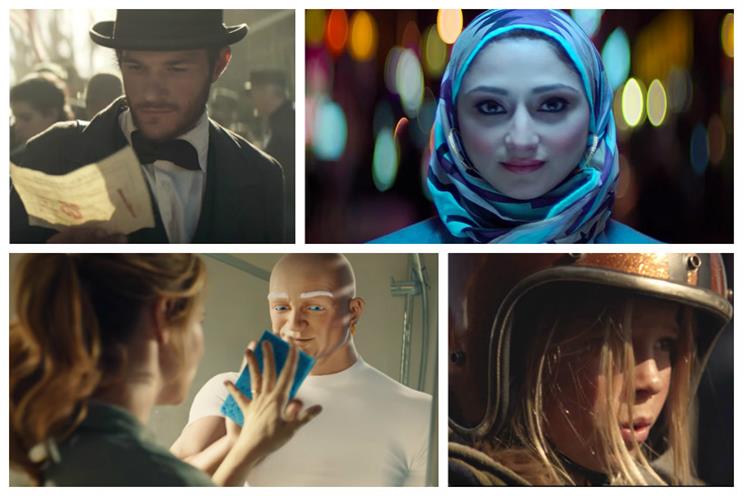 Super Bowl LI ads generated the lowest social media engagement in six years, according to a study from video distribution firm Unruly.
The company's findings, released today in the report "Video Impact Study: Super Bowl Edition," show that online shares hit an all-time low this year, with only five brands dominating more than half of the overall shares of 134 national ads.
Budweiser (22 percent), Mr. Clean (11 percent), Airbnb (8 percent), T-Mobile (8 percent) and Audi (7 percent) amassed 56 percent of the shares during football's biggest night.
Devra Prywes, senior vice president of marketing and insight at Unruly, attributed the poor social media performance of the majority of the advertisers on weak or missing digital campaign components, viewers not connecting to the brand messaging and a declining NFL viewership.
The top-ranking brands, excluding Airbnb, which made a last-minute media buy, were among the 75 percent of marketers who released their ads before the Super Bowl to create buzz.
Budweiser and Audi attracted high social media shares with ads centered on immigration and gender equality. The political plays may have inspired "sharing out of anger," said Prywes. "When you look at why people share, it's because the ad has made an emotional connection," she added.
To conduct the research, Unruly used facial recognition software to analyze emotions of 1,500 adults as they watched the Super Bowl ads. The company also tasked these panelists to answer questions about brand impact, purchase intent and predicted shareability. It then combined these results with a total tally of online shares of this year's Big Game spots.
In addition, Unruly found that only four ads measured above average in quality. The company asked panelists to rank 12 of the most popular ads between 1 and 10, with 10 equaling the highest quality. Hyundai, Coca-Cola (which reran a 2014 Super Bowl commercial), Mr. Clean and Audi earned scores of 5 or higher, whereas brands like 84 Lumber, Airbnb and Samsung fell short.
Hyundai garnered the highest rating (6.1) with its live ad "A Better Super Bowl," the study showed, because it tapped into the emotion of pride. Only 6 percent of non-Super Bowl ads evoke pride in consumers, Unruly found, but 27 percent of respondents said they felt proud after watching the Hyundai commercial featuring U.S. soldiers. "The fact that hours after creating and launching their ad they cracked the top 10 is something special," Prywes said.
Still, if there was ever a time for a Super Bowl ad to bomb, 2017 was the year to do it. The Unruly study found that 23 of those surveyed said they didn't even tune in this year, with 27 percent of millennials saying they simply "don't watch it."
That's why it's imperative for Super Bowl advertisers to develop online components to their campaigns, Prywes said. "It's not enough just to buy Super Bowl air time," she said. "To really make the most of that investment, marketers need to make sure that the ad quality is there, that the creative that they're making is having an impact and that they're launching it strategically online to complement. TV is one of many devices."
Most of those who did watch, however, did so because of both the game and the ads, including 42 percent of those surveyed aged 25 to 34. But only 11 percent of every age group questioned said they solely focused on the commercials.
Millennials were even more turned off by the ads themselves, Unruly discovered. Those aged 35 to 64 were reportedly 16 percent more engaged in Super Bowl ads than their younger counterparts, partly because millennials watched the Big Game on multiple devices. In fact, they were 20 percent more likely to watch football on their smartphones and 14 percent more likely to watch on their laptops.
"We have a record number of cord cutters," Prywes said. "Times are changing. There's a lot of content competing for people's attention. Attention is a finite and limited resource. Marketers need to fight through all that noise."
Brands also need to make their ads more memorable, she added. Unruly found that most Super Bowl viewers struggled to remember 2017's ads. In fact, this year's brand recall was 15 percent lower than the non-Big Game advertising average. Prywes attributed the low recall due to a lack of branding in the Super Bowl LI creative.
"It's the myth that you shouldn't brand your spots," she said. "There's no reason for it." The top two most-remembered spots were Tide (84 percent), which featured announcer Terry Bradshaw fighting a shirt stain and several product images, and Mr. Clean (82 percent), which introduced a sexier version of the cartoon spokesman.
"Even just having the character Mr. Clean, he is the brand. He is synonymous with the logo," Prywes said. Also, "Tide was really memorable. The spot almost looked like a live stunt" and "surprised people."
While there were few Super Bowl winners this year, Prywes is hopeful for 2018. That's why Unruly is coming out with this whitepaper now, she said, so it can influence marketers who are in the midst of creating their World Cup, Olympics and even their future Super Bowl campaigns.
"My plea for marketers is to make a really emotional ad and get it seen," she said. "Then we can have a Super Bowl to remember next year."