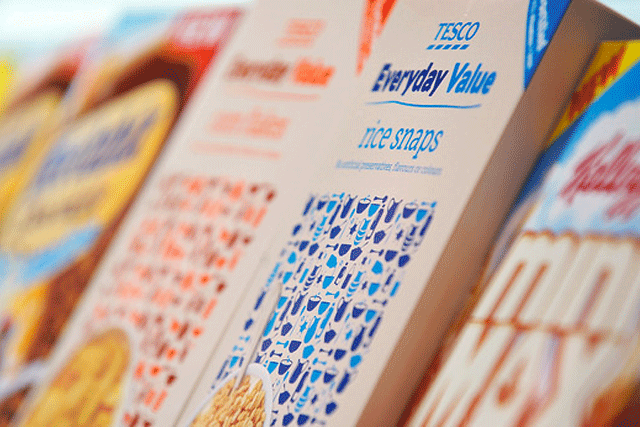 The research group's data found that 71% of UK consumers think that the quality of own-brands has improved, while 50% said they would buy more if greater variety was on offer.
The research is potentially bad news for brand owners, with 60% of shoppers saying the quality of most own-label brands is as good as that of name brands, nearly double the proportion of consumers who thought that four years ago.
Over two-fifths (42%) reckoned that some own-label brands were better quality than name brands and only 26% thought that own-brands were not suitable when quality was a consideration.
The total own-label sales in the UK is nearly three times that of the global average.
Premium own-labels, such as Tesco Finest, are also becoming increasingly popular among shoppers – growing at 5.2% year on year in the 12 months ending 21 June 2014, four times the national growth rate of 1.4%, Nielsen said.
Nielsen's Global Survey of Private Label was compiled after polling more than 30,000 respondents online, spanning 60 countries.
Of all the product categories analysed, fruit and vegetables achieved the highest concentration of own-brand sales, with 100% of consumers buying own-label fruit and veg. Meat and poultry came next, at 96%.
At the other end of the scale, health and beauty was the least popular own-brand choice, at 18%, followed by confectionery (22%) and alcohol (25%).
UK shoppers were seemingly less snobbish, or less discerning, than other Europeans about own-labels – 37% of Brits regard own-label brands as only suitable for people on tight budgets, compared to 46% of Europeans.
Meanwhile, nearly half (44%) would be willing to pay the same price or more for an own brand equivalent of a name brand, up from 28% four years ago.
Mike Watkins, Nielsen UK's head of retailer and business insight, said: "The perception of own-brand products has improved dramatically in recent years.
"As with manufacturer brands, retailers have, over time, successfully built equity into their own-brand products by investing in product innovation, further developing ranges and increasing marketing activity."
Read next