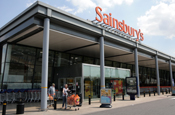 The research, carried out for Nielsen Media Research for the Daily Telegraph, found that the major supermarkets all increase spending during the six months to October.

Asda increased spending by 52 per cent, Tesco by 18.8 per cent, Sainsbury's by 21.3 per cent, and Morrison's by 15.2 per cent.

However, the research showed that Marks & Spencer cut its spending on advertising by 20.3 per cent during the period.

Car manufacturers are also reported to have significantly slashed ad spend.