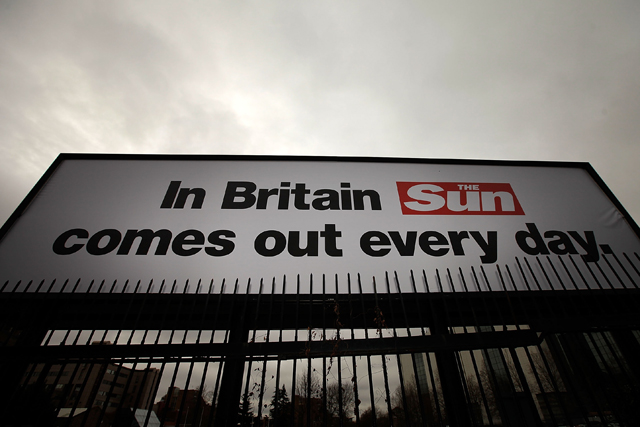 The arrival of The Sun on Sunday over the weekend was good news not only for News International, but also as a potential boost to the struggling national press advertising market.
British Gas, O2, Virgin Media, and TalkTalk advertised in the debut edition. But, while Morrisons ads dominated the paper, Tesco, Asda and Sainsbury's were notably absent from its 92 pages. This might be down to a 'wait and see' approach - or it could be symptomatic of an emerging trend.
The supermarket sector has been one of the biggest advertisers in the red tops. Traditionally, these retailers rely on papers to spread the word about low prices, and lure consumers with last-minute dinner ideas. Morrisons and Sainsbury's, for example, devote about a third of their adspend to promoting their wares in the papers, according to the Newspaper Marketing Agency (NMA).
Exclusive research (click tables below to enlarge) shows that the supermarkets are pulling back, however. Between November and January, the total national press adspend from the biggest eight food retailers decreased by 13%. In January alone, the fall was more pronounced, down 32%. The Nielsen data indicates the sharpest January cut came from Tesco, which spent 51.3% less, down £1.8m from the £3.2m it spent in January 2011. Waitrose cold-shouldered the medium altogether in the first month of the year.
Spending drops
Over the quarter, Tesco's drop was 16%, from £13.8m to £11.6m. The retailer maintains that the figures cannot be looked at in isolation, however, adding that print advertising will 'continue to be a significant aspect of our annual planning'.
Richard Dodds, head of media and campaigns at the British Retail Consortium, which counts the big supermarket chains among its members, points to other sales channels, particularly vouchers, as one explanation for the decline.
'What is evident is that different routes to market are becoming more important, such as email marketing, social media, distribution of vouchers, all of which can sometimes be more cost-efficient,' he says. 'But activity in national newspapers is still an important channel to get a supermarket's message of price promotion across.'
Angus Maciver, Morrisons' former marketing director, and current chief executive of McCurrach, a sales force provider to supermarket suppliers, explains that if the major retailers are running vouchers with one newspaper, then a contra deal may well be struck.
Voucher deals
'One theory is that as the big supermarkets were running a lot of one-off voucher deals in January they were potentially not paying for this advertising, which could affect the figures,' he says.
Maciver questions whether the decrease is down to straightforward budget cuts, suggesting redistribution of spend instead.
'I would doubt that retailers are in such dire straits that they need to cut promotional spend to meet targets. While I was at Morrisons I did think we were potentially spending too much (on press advertising) to justify the return on investment. However, I believe press ads are still better than TV to get out news of an individual promotion.'
The supermarkets are also bolstering their digital activity, and it is likely that the necessary funding might be diverted from traditional channels such as press advertising. Zoe Bale, press director at Carat, contends that digital advertising will have been a factor behind the recent figures, adding that 12 months ago, mobile would have featured minimally in supermarket budgets.
It is, therefore, perhaps unfair to look at print versions of newspapers on their own, argues Rufus Olins, the recently appointed chief executive of the NMA. 'Retailers are now also running their campaigns on newspaper sites, which deliver big audiences too.'
Summer of ads
Another reason could be that retailers are cutting spend ahead of a summer blitz.The Co-operative Food spent 40% less over the quarter and 50% less in January, although its adspend peaked in January 2011, when it launched its 'Passionate Plea' campaign.
As the chain's print adspend is phased over a 12-month period, it means reining it in now to fund bigger campaigns later on in the year geared to coincide with the Olympics and Euro 2012, as Helen Nunn, its head of marketing, admits.
'As we have an exciting summer coming up, our print advertising is weighted accordingly,' she says. 'It plays a vital role in delivering our strategy of value for money, quality and responsibly sourced food close to home.'
Whether the decision by supermarkets to cut newspaper adspend turns out to be a longer-term trend will become clear over the summer and beyond, with the run-up to Christmas another test.
The Sun on Sunday will provide advertisers with a sizeable, sought-after audience. Expanding digital channels, however, including newspapers' own websites, will no doubt continue to take a bite out of spend on traditional press ads.
EXPERT COMMENT: JO BLAKE, HEAD OF PRESS, ARENA MEDIA
There has been a decrease in spend from the supermarket advertisers this year. However, this should not come as a shock, as there is declining spend across all media.
With Tesco's Big Price Drop promotion falling flat over the Christmas period, and more than £3bn chopped off its value, it is no surprise it is holding budget back. This has caused other chains to postpone spend to see what the market leader will do next.
We must also consider the three major events that are coming up: Euro 2012, the Olympics and the Queen's Diamond Jubilee. With overall budgets remaining similar to 2011, we should therefore expect to see a quieter first quarter.
This reallocation could have a negative effect on the national press marketplace. With limited paginations and all supermarkets contending for the same space, what will be left for the rest of us?
The Sun on Sunday will be the market leader, but I don't think it will have an extreme impact on supermarket advertising. There will be a lot of people who will purchase the first issue as a souvenir, and retailers will be wary of that.
NEED TO KNOW: THE SUN ON SUNDAY
Launch advertisers: British Gas, Butlins, Harveys, O2, Morrisons and Virgin Media.
Price: 50p.
Print run: 3m-plus.
Pagination: 92 pages.
Launch campaign: Outdoor ads have been running in tandem with a TV spot, which broke last week during ITV's live coverage of The BRIT Awards. The outdoor ads used the tagline 'In Britain The Sun comes out every day'.
Content: More of a 'family feel' than the Saturday edition. It features Fabulous magazine, Bizarre, Dear Deirdre and a 28-page Goals supplement. Columnists include former footballer Roy Keane.