"Supersize colouring sheets" by Uncommon and Dutch Uncle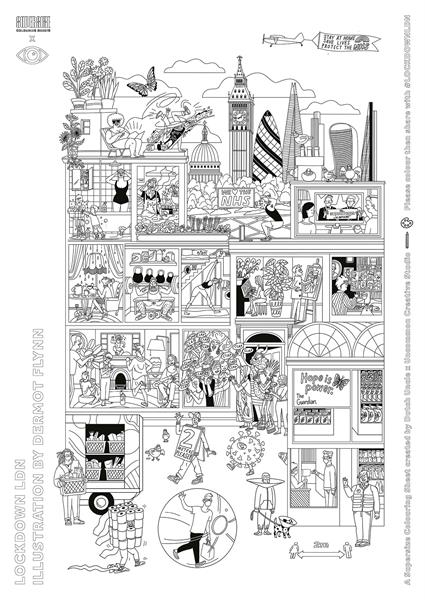 Acclaimed illustrator Dermot Flynn playfully captures the spirit of London during lockdown in a project by Uncommon Creative Studio and Dutch Uncle.
The artist created poster-sized colouring sheets with scenes celebrating the various activities and social nuances during this period, such as clapping for the NHS, Joe Wicks bootcamps, Zoom pub quizzes, baking and a woman cutting up her bras. All profits from the supersized colouring sheets will be donated to the Florence Nightingale Foundation. Additional sheets will be released for New York, by illustrator Tomi Um, and Tokyo, crafted by Satoshi Hashimoto.
Nils Leonard, co-founder at Uncommon, said: "These sheets are epic. They show London's incredible spirit during these surreal times and really express an optimistic celebration of everyone getting through this together. We wanted to make something the whole family could enjoy, but also something beautiful that captured how we are all getting through this unique moment, something you'd want framed on your wall even if you didn't pick up a pencil."