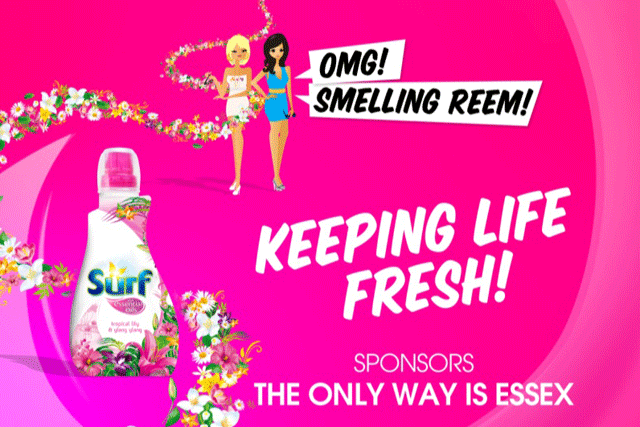 The sponsorship, negotiated by WPP agency Mindshare, is the first part of a £5m marketing push for the Surf brand and will be followed by a number of new marketing initiatives and product announcements later in the year.

The Bafta-winning 'The Only Way is Essex', or 'Towie', is one of the biggest shows on ITV2 and its third series last autumn had an average of 1.8 million viewers and peaked at 2.2 million, against a slot average of between 700,000 and 800,000.
This is the first time a brand has committed to 'Towie' for an entire year. Previous sponsors (Sony PlayStation DanceStar, lip care brand Cymex and Wink Bingo) signed up for one series each.
Clare Logan, brand manager for Surf, said: "As a brand we are always looking for new and exciting ways to reach our target market, so we're thrilled to be sponsoring such a popular TV programme that really speaks to our target audience."
The idents for the sponsorship have been created by Signal TV and Surf plans to expand the sponsorship online, details of which will be announced in due course.
Logan said: "We've designed the creative to reflect the personality of the TV show and the 'delightfulness' of the Surf brand. We hope viewers really enjoy watching them."
The Surf sponsorship follows activity for a number of Unilever brands including Flora pro.activ's sponsorship of ITV's mystery dramas, including 'Scott and Bailey', 'Whitechapel' and 'Poirot'.
Jon Smale, group sales controller at ITV, said: "'Towie' has proven appeal and the show provides a unique opportunity for brand activation in a tremendous environment.
"I am delighted that we have secured Surf as our sponsor, one of a number of exciting partnerships with Unilever brands in 2012, and we look forward to working with them to activate a great cross platform partnership."
The new season of 'The Only Way is Essex' starts on Sunday (29 January).