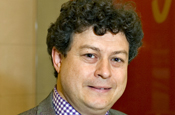 His appointment, forecast exclusively by Campaign, was rubber-stamped by the IPA council this afternoon.

He will take over from Moray MacLennan, the current president, in April.

Sutherland, who is also vice-chairman of OgilvyOne, becomes the first creative ever to lead the trade body in its 91-year history and the first to come from a direct marketing background.

David Pattison, the IPA's immediate past president, who chaired the nominating committee, said: "Rory's mix of creative and direct marketing experience make him the ideal choice to lead the IPA and its members through what will be a testing time for all of us."

Sutherland described his nomination as "a fabulous honour" which had come at what he believed was "a turning point in our history".

He added: "I may be naively optimistic in this, but I feel the UK is finally emerging from an all-to-long period of excessive left-brainery."

He added: "The opportunities for creative businesses to regain their lost stature seem to me better now than for some years."