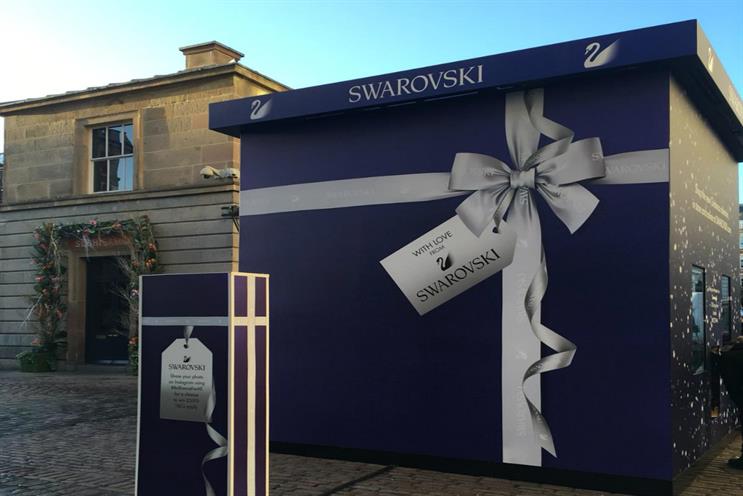 Swarovski has created a number of activations to celebrate the festive season, linked by a "sparkle" theme.
The "Sparkling box" is visiting two UK locations – London and Manchester – and aims to show the brand's "fun side".
One part of the activation shows the Swarovski Christmas ad, while another features a festive-themed gif photobooth, allowing consumers to capture their own "sparkling" moment that they can share via social media. Other interactive elements feature a virtual snowscape, which passersby can use to create a digital snow shower, while the final side of the box shows festive gifts on offer.
A further activation, "Sparkle street", incorporates a Christmas tree featuring digital advertising, with the aim of getting passers-by to have a picture taken in front of the festive-themed landscape, with the images appearing directly opposite on large screens. Participants will receive a print-out in the form of a Christmas card.
Swarovski is also working with black cab drivers, and throughout December they will be handing out Swarovski gifts to random passengers.
The "Sparkling box" activation kicked off in Covent Garden in London on 30 November and ran until 2 December. It will visit Manchester during 7-9 December. "Sparkle street" takes place at Westfield London on 8 and 9 December.
The activations were developed in partnership with Havas Media's out-of-home division, Adcity, working with Projection Artworks.