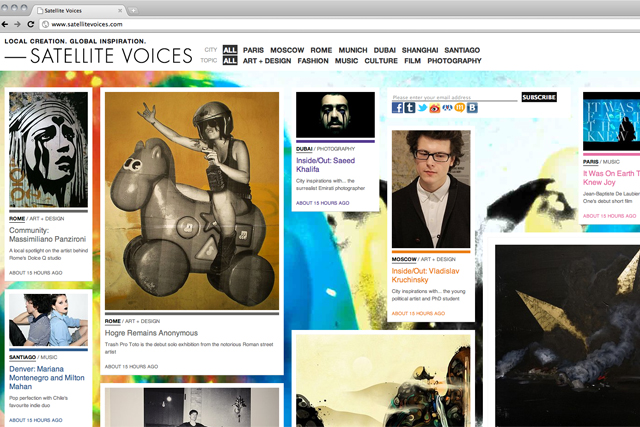 Dazed Group, which publishes Dazed & Confused, Another magazine, Another Man and Dazed Digital, is owned by Jefferson Hack, the magazine publisher, and Rankin, the photographer.
The company's new website aims to foster "a creative community" and will include content about fashion, music, art, film, photography and culture scenes in seven selected cities – Paris, Moscow, Rome, Munich, Dubai, Shanghai and Santiago.
Content will be created by selected editors from the seven locations.
Satellite Voices will also feature guest editors, local street style photography and monthly mixtapes, which can be streamed live.
The editors will work in tangent with the Dazed editorial and marketing team in London who will support the site. However there will not be any editorial content on the City of London.
Swatch will have display advertising on the site, which will also contain display advertising relevant to the individual cities.
It will be supported by social media activity on Twitter and Tumblr, as well as local media including Weibo (China) and Vkontakte (Russia).
A Facebook page, which has already gone live ahead of Satellite Voice's launch tomorrow, is promoting the site with a competition to win one of four Swatch watches.
Other Facebook campaigns will attempt to lure readers to the new site with questions such as "What's happening now in Shanghai?" and "What's happening now in Rome?".
On launch, content for each city will initially only be available in English but the site aims to publish content in the featured city's relevant local language in three months' time.
Alistair Allan, head of digital at Dazed Group, said: "Satellite Voices is our first digital-only publication with the same ethos as Dazed, and with it we're tapping into local mavens (our new city editors), who are helping us expose the fresh creative blood that the world needs to hear about."
Arlette-Elsa Emch, president of Swatch, said: "With Satellite Voices we reach emerging territories and engage with a global audience. Swatch values are perfectly in line with Dazed's culture and digital expertise".