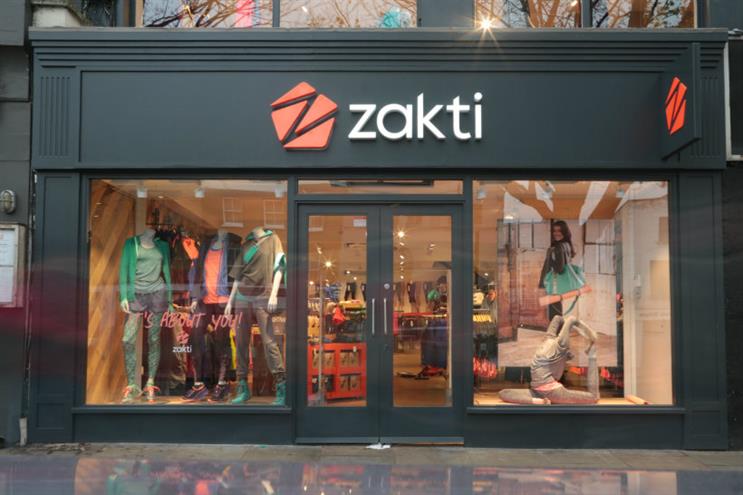 In November last year, Mark Neale, the founder and chief executive of Mountain Warehouse, launched Zakti Active.
"We are using our expertise in sourcing, product development and performance fabrics built up over nearly 20 years with Mountain Warehouse to enter this adjacent market," Neale told Marketing. "We believe Zakti will help us widen our appeal and reach new customers."
Within a mere four months since launch, Zakti has opened three stores, and by the beginning of May it will open another in Oxford, and will roll out a range of menswear.
According to analyst Rebecca Marks, a consultant at Verdict Retail, Zakti is entering and attempting to fill a market gap in "a strife environment at the moment".
But Neale is no stranger to starting small and building up. Following several failed attempts to start a successful retail business, Neale succeeded after he founded Mountain Warehouse in 1997 with a single store. Today the retailer has more than 220 branches in the UK, Poland and Germany, and employs a workforce of 1500.
These are early days for his latest venture, and Neale has installed a team to drive Zakti forward.
He recruited former Panache Lingerie and Mamas & Papas marketer Jennie Bianco just a couple of months ago as head of brand marketing, overseeing Mountain Warehouse and the fledgling Zakti brand.
"They'd never really had someone whose role it was to tie the brand, customer, PR and marketing campaigns together," Bianco explains.
Marketing also spoke to Craig French, Zakti's head of buying, who was previously head of womenswear at Mountain Warehouse.
Relaxed vibe
"We're not trying to create a product just like anyone else's," French says. "You can buy a t-shirt or vest, or a high-spec jacket for £150. It is really giving a really great product at a really great price without compromising quality."
As befits a start-up, French's job is not limited to buying, but spans areas such as working with suppliers, dealing with customer queries and helping determine store layout.
The interiors of the stores are designed to resemble a yoga studio - all exposed brickwork and natural wood designed as an antidote to the slightly threatening vibe of the gym.
Filling a gap
Zakti's USP is an interesting one, with the business looking to fill what it perceives as a genuine gap in the market - for well-designed, technically high-spec athletic clothing for yoga, the gym, skiing, dance, swimming and cycling; but at a much cheaper price than the competition.
"I think that quality and value are really important," Bianco says. But she adds that Zakti's model is not set in stone, that it's evolving, especially in these early days. "It's not formulaic and from a background point-of-view it can change quickly as a business."
Marks is impressed by Zakti's adherence to the notion of genuine quality at value: "While some of their prices even sit within the value end of the spectrum for activewear," she says, "They haven't skimped on design or performance aesthetics with including discreet pockets and thermal fabrications.
"It demonstrates a strong proposition against high street favourites such as New Look who protect margins through including minimal performance features to cut costs."
So how is it that a retailer make high-quality products at such an affordable price?
"We've worked really hard," French says. "And we're also compromising on margin."
In terms of investment, Mountain Warehouse is ploughing £1.5m into Zakti, which covers a head office team of 12 working across design, buying, IT, logistics and marketing.
Marketing
Marketing-wise, Zakti manages the function in-house, with a modest budget that reflects the business's size. Part of Zakti's marketing includes a membership scheme: customers give the company their email address and in return they will enjoy lower prices than non-members. This means that two prices feature on price tags in-store.
The brand is also active on social media, including Twitter and Facebook, with 2750 followers on the former, and it does some play-per-click advertising. And it certainly doesn't hurt that it gained a nomination for Best New Brand a the Your Fitness magazine Style Awards.
If you're in #Reigate, why not come visit our new store? We look forward to saying hi :) #zaktiactive #activewear pic.twitter.com/3UQXqMN1wF

— Zakti Active (@Zakti_Active) 30 March 2016
But Verdict's Marks thinks that Zakti's brand and marketing needs a shot in the arm.
"Despite its potential, it has a weak brand image, with a small consumer following which needs to be developed greatly," she says. "While the brand has emerged at a pivotal time for activewear, it means its competing in an even stronger and competitive environment."
And yet it's very early days, with Bianco's arrival still fresh. Accordingly, Bianco explains that she and her team are focusing on influencer engagement and product placement. They are researching celebrities, bloggers and journalists who are influential in fitness realms and is looking to drive relationships with them, and for them to talk about its product.
For Marks, Bianco's plan to target advocacy makes complete sense.
"Zakti Active would benefit from collaborating with Instagram and fitness bloggers to grow consumer awareness of the brand, using videography to demonstrate the versatility of its clothing range," she says.
Menswear
Alongside Zakti's existing three stores, on Islington's Upper Street, in Chiswick and in Reigate, there are plans to imminently open another shop in Summertown in Oxford.
And further changes are afoot, with a roll-out of menswear coinciding with the new store opening.
"It's definitely a major hole in the market," says French. "There are a lot of high-focus sport and fashion brands that are starting to enter the men's market."
Menswear will span an array of clothing, from specialised bike shorts, bike jerseys made from polyester blends and running gear, to casual wear including (French's favourite) a marino polo, which will be priced at around £40, making it very competitive.
'Energy, strength, power and potential'
Having launched less than half a year ago, Zakti is pursuing an emphatic expansion strategy - the menswear offering is among other plans to extend its appeal (and customer base), including upping its size limit from 16 to 20, while the in-store look will be subject to improvements and tweaks.
"What the business is good at is trying new things," Bianco says. "It's brave and just gets on with it." French echoes this sentiment. "We're not so full of ourselves that we won't make mistakes," he says. "We'll continue to learn."
The term 'Zakti' itself is derived from an ancient Sanskrit word meaning "positive energy, strength, power and potential". These are qualities that are crucial to Zakti's future in the marketplace. They could even enable it to surpass the success of rivals like Sweaty Betty and Lululemon, Verdict's Marks reckons.
"If the brand perseveres through its more lifestyle route through its blog, editorial and social media to provide fitness, style and diet advice, it will be able to follow the likes of Sweaty Betty and Lululemon's lifestyle offer but with a more desirable mid-market proposition," she says.