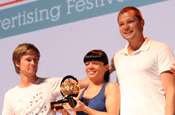 MindShare was the media agency on the brief but, as was the case in half of the record 2,000 entries to this category, it was the non-media outfit that put the work into the festival.

The Grand Prix campaign, "MMS" for AMF Pension, was one of very few that stood out in a batch of generally disappointing entries, the jury president, Dominic Procter, worldwide CEO at MindShare London, said.

"We did a lot of mining for gold but we didn't find much. We have worthy winners but there wasn't enough good stuff and there was too much bad stuff."

Only Bartle Bogle Hegarty (with a silver for "get in there" for Unilever's Lynx FX) and Nitro/MindShare (a bronze for interactive cinema gaming for the Volvo XC70) represented the UK.

That was despite the UK entering 150 ads, the third biggest number after Germany with 300 and the US with 210. "The quality standard clearly didn't match up," Procter said.

The winning Swedish work "ticked all the boxes" in that it employed both analogue and digital media (and related them to each other), it used a real consumer insight and was well executed, in a difficult category, bringing tangible business results to the client.

Twenty-five-year-olds were invited to upload photos of themselves to a website and have them doctored to show what they might look like aged 75.

They could then be downloaded and shared with friends. The idea was to encourage young people to engage with the idea that they will one day be old and should be thinking now about investing in pensions.

A staggering 15 per cent of the target audience asked for information on the pension products. "This is amazing when you think about the lifestage (of the audience) and the subject (pensions)," Laura Desmond, the CEO of Starcom MediaVest Group, Chicago and one of the judges, said.

A close contender for the Grand Prix was Leo Burnett, Chicago's "fresh salads" poster for McDonald's, which scooped two golds (since it entered in two sub-categories).

The agency worked with an engineering team from the University of Illinois to plant lettuce seeds in red soil on a 30-sheet vertical poster site in Wrigleyville, Chicago.

Over a four-week period, the lettuces grew to spell out "fresh salads", accompanied by the McDonald's logo.

BBDO New York's HBO Voyeur for the film enthusiast's website caused some surprise with a bronze win only, having walked away with the Grand Prix in both Promo and Outdoor.

But, Procter said: "It didn't have the rigour of effectiveness other cases had."