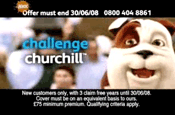 The business is held in the majority of markets by Media-edge:cia, but sources said Swiss Re has made approaches to rival networks.
Though the move opens up the possibility of the winning agency taking on the Churchill and Direct Line accounts, the pitch is believed to be motivated by international issues.
Swiss Re specialises in offering reinsurance to companies exposed to risk. However, its exposure to the collapse of the US banks Lehman Brothers and AIG was limited to around £125 million.
Swiss Re also runs health and life insurance businesses. In 2006, it bought the UK arm of GE Life and earlier this year successfully bid £753 million for Barclays Life Assurance.
Reports suggest it is working with the private equity company CVC Capital Partners on raising £3 billion to complete the acquisition of a 51 per cent stake in Churchill and Direct Line. If successful, the deal could be concluded within six weeks.