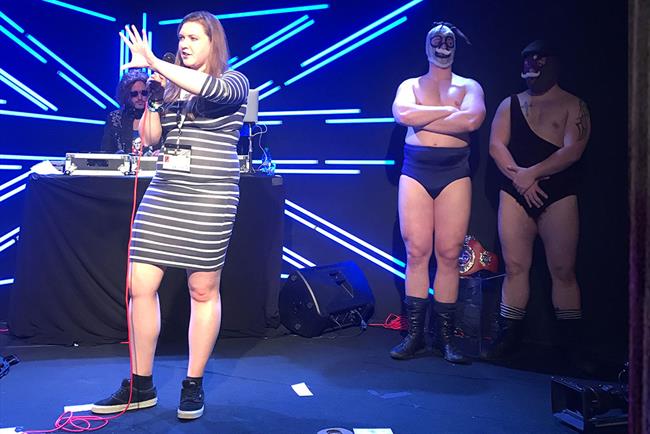 Talks of the day
To the creative and physical side today, with wearables for art and utility featuring heavily. Here are the best bits of SXSW so far...
Crossover of Future in ArtxTech by Women in Design
Anouk, Behnaz, Tiffany Frenda, Noa Aviv, Wendy Fok, Dara Dotz
In this action packed session that was more like a taster to different design practices than anything more in depth, six talented and diverse women from around the world shared their work. They are all worth so much more of a stage, and you should take time to explore what they do. They are asking important questions about the human experience right now, through their work.
How can fashion defend your personal space?
From the world of fashion, two designers of interactive clothing, Anouk and Behnaz: their delicate and dangerous interactive garments were all about protection of personal space from the male gaze and body. Dynamic and reactive, they moved like porcupines or spider legs, emitted smoke and otherwise "spoke up" when the wearer may not. Interesting to consider it as a feminist action, where the clothing takes the role of the protector and voice that is often not encouraged of the potential wearer.


How does technology alter the connection between humans, and their view of themselves?
Tiffany Trenda is a new media performance artist who uses interactive costume to explore how technology is affecting our memory, human interaction and concept of ourselves. Like a 21st century cross between a latex Nina Hagen and Leigh Bowery, her work moves from remote to extremely intimate almost immediately. Whilst studying fashion, Noa Aviv fell in love with mistakes, glitches and errors in her production process. From corrupt 3D files to the personal and messy sketches she scribbles for herself, she makes the mistaken beautiful.
What is making and how can we use technology to disrupt the process for good?
Wendy Fok is an architect and lecturer working with environment design. Her specific area of interest is in manufacturing, the intersection of machine tooling and play. Her environments are stunning, and her opinions of the process of making them is one that's often not heard (and certainly something that agencies trying to create products and spaces should listen to).
Finally, an incredible woman who has founded a company to break the laborious supply chain of aid and equipment in disaster situations and remote areas: Dara Dotz founded Field Ready to supply local people with 3D printing technology and training to be able to manufacture what they currently can't get access to. From umbellical clamps and fixing baby incubators by printing unavailable parts in Haiti; to working with entrepreneurs in Nepal to create air vents for fires that are 27% more efficient that what they had been given (saving fuel and children's lungs); they are transforming people's lives. And helping them transform their own.
Not Your Momma's Wearables
Thad Stoner, Melody Jackson
Thad is the inventor of Google Glass and often referred to as the "father of wearables". Now at Georgia Tech, he is focussing on the next wave of wearable technology, wearable computers that enable superpowers. With examples of applications from emergency services to medicine, and covering some incredible finds along the way (how passive haptic learning – creating muscle memory through electric currents – can accelerate the mastery of a musical instrument) it was a fascinating talk. His colleague Melody presented something even more incredible – their experimentation with using interactive vests on occupational dogs to help them do everything from raise an alarm, to clearly communicate what explosive substance is in a bomb. They are also using their tech to communicate with wild dolphins. Amazing stuff.
Fun of the Day:
TechOff was back again for the final this evening. The very best talks on tech, and the best luchadors, made it a great evening. It got quite rowdy! Thanks Tech Department and British House! Had a wonderful Creative Social dinner too, with senior agency folk from around the world eating the world's best BBQ off paper plates and sharing stories and work.
Experience of the Day:
"Queer Voices on and off Screen" was a conversational and provocative talk this afternoon. Having made a bunch of new contacts there I feel much more confident that the women's film festival we have planned for June in Cannes will be a success. We're launching next week with a call for entries, and the information and support I received has helped progress the idea a lot.
Swag of the day:
It has to be the TechOff t-shirt and foam hand!