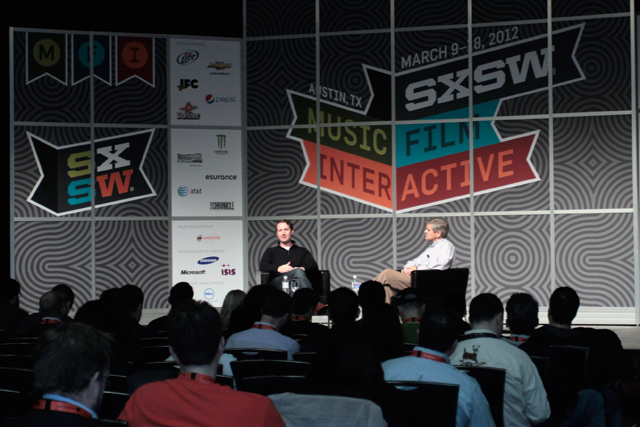 SXSW Interactive, an annual five-day 'pop-up' festival in Austin, Texas, hosted more than 2600 talks on all things digital, drawing creatives and marketers in force, all seeking out the latest technologies.
The event, famed for its thought leadership, has also caught big brands' attention. Sponsors included PepsiCo, Samsung and Microsoft.
Below, we highlight five topics that created a buzz.
---
Click the images to skip to a delegates view of the festival
| | |
| --- | --- |
| Neil Bedwell, Coca-Cola | Michelle Klein, Diageo |
1. Location-based interest-sharing
A raft of location and 'social sharing' app start-ups took to SXSW, in the hope of replicating the success of the launches of Twitter and Foursquare in previous years at the show. The most talked-about app was Highlight, which notifies users when there are individuals nearby who share similar connections and interests. Other 'social discovery' apps include Banjo, Glancee and Sonar.
2. Telling the brand story
The 'Brands as patterns' session on day two sparked plenty of discussion. It addressed the difficulty of brands telling a coherent story and maintaining consistency in new channels. Robin Lanahan, brand strategy director, start-up business group, Microsoft, cited Facebook Timelines as an example of digital disruption to storytelling, meaning brands now 'not only manage their future, but their past too'.
3. Analogue meets digital
There was a strong emphasis on connecting digital to real-life experiences. Diageo focused on this in its presentation on its Nightlife Exchange Project, describing it as the 'sweet spot' brands strive for. Michelle Klein, vice-president, Smirnoff global marketing, communications and digital, at Diageo, believed connecting the real world to digital was 'more powerful than if you start the other way round' (see box).
4. The value of social TV
There were no fewer than 13 talks on this hot topic, the debate moving from dual-screening to driving ROI and ratings. During a panel debate on 'Does social media drive TV ratings?', MTV vice-president of digital media Colin Holms said: 'Any TV show will be social, whether you like it or not'. The importance, he said, was crafting communities around shows and 'creating authentic content, giving them something they feel is special'.
5. Hacking for brands and smiles
Applying computer programming techniques could unlock potential benefits for brands, both in NPD and advertising.
'Hacking is no longer the domain of techies or artists, as the barriers to entry are lower,' according to David Caygill, creative technologist at Iris, speaking during a talk entitled 'Hacking for smiles'.
Facebook has encouraged brands to adopt this 'hacking culture' for some time; now Nike has jumped on the bandwagon. It hosted a 'hackathon', inviting developers to create apps on the API of its Nike+ FuelBand.
Delegate View
Neil Bedwell, global group director, digital strategy and content, Coca-Cola
SXSW is a 'head feed'. This is my first time attending, but I've always followed it online. It's my Cannes - where I will get the most value and inspiration.
For me, it is not so much about the technology, rather what the technology allows you to do.
Coca-Cola has been coming here for several years, but we do it in a low-key way; to listen and learn, not to preach and teach. We are absorbing all this wonderful pioneering entrepreneurial spirit.
It's not for every brand to come here and make a statement, but you have access to some of the most inspirational people and ideas in the industry.
I am very interested in the next wave of location services and love the movement around the $100 start-up at the festival. I've been following 'lean start up' on Twitter here - it's almost the opposite of what Coca-Cola is.
SXSW is full of inventors; I want to see whether these inventions could become innovations that Coca-Cola could trial to connect with consumers. If we experiment with a few, we may fail, but one might have the potential to scale, which is what we are interested in at Coca-Cola.
Delegate View
Michelle Klein, vice-president, Smirnoff global marketing, communications and digital, Diageo
We are seeing more clients than ever at Cannes, and the same trajectory is occurring at SXSW. The tables have turned and clients want to be here for themselves, rather than agencies telling them about it.
For Diageo, it is about wanting to know what is on the bleeding edge of technology and social, and the music here is also important to us. We are doing a talk on the real world versus digital, focused on our Nightlife Exchange Project.
It's my first time here, as I wanted to hear for myself what people are talking about and see what looks right for our brand.
We will get a group of people together out here from our agencies and find out where we should focus our energy. It can't be a scatter-gun approach, but it's good to be open to experimenting with new technologies.
More than anything, it's a great networking opportunity for brands to do a sort of 'speed dating' with vendors and partners that could be relevant for the future.
I think all brands should come, although it could turn into a case of (some) coming to SXSW just for the sake of it. You have to understand why you are here.