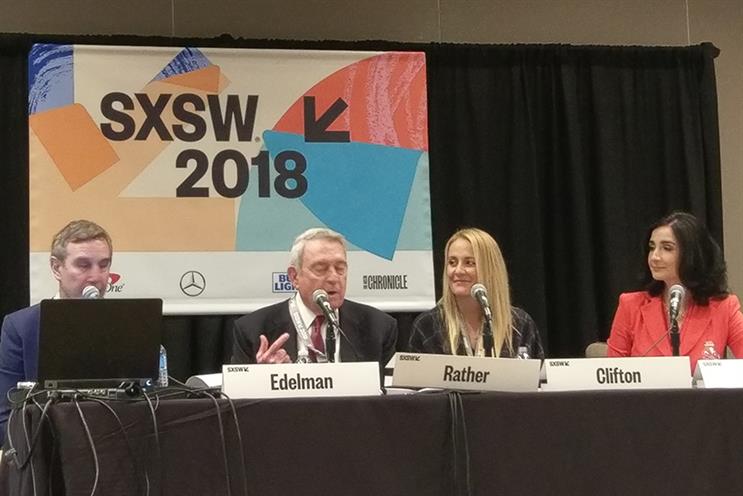 Earlier this year, Edelman's annual Trust Barometer report revealed a world struggling to maintain faith in its institutions and leaders. And though people roundly criticized social media for not being trustworthy enough, half of respondents relied on it for their news.
The outlook at SXSW is even worse. A version of the Barometer presented at the festival showed attendees rate their trust in businesses and government some 20 percent lower than the global population. Conference-goers—a tech-focused group if ever there was one—also rated their trust in technologies far lower than the rest of the world.
"The more you know, the less you trust," explained Jessica Clifton, U.S. Head of Digital at Edelman. "We're very close to technology in this community, so we understand the challenges of implementation and activation, whereas I think the global population is really judging technology on its promise and potential." Joining Clifton for the "SXSW Report on Trust: Gov't, Tech & Media" panel on Friday were Heather Brunner, CEO of WP Engine, Edelman CEO Richard Edelman and longtime journalist and now president and CEO of production company News & Guts, Dan Rather.
Some of the blame for the lack of trust in tech falls to a lack of transparency, said Brunner, noting that whistleblowers at Facebook and Google had to take their information outside the organizations before anything was done. "We first have to be credible" in order to build respect, she said. "From that respect, over time, you can build trust. And with that trust, you can then build advocates."
According to Richard Edelman, brands must reflect the values of their consumers to win their trust. "The consequences of corporations' silence is unfathomable," he said. "We have a tax on truth if we're silent. We must speak. Without talking about MeToo, without talking about immigration, without talking about things that matter in this society, like trade, we are going to go down a very bad path."
When Rather weighed in, he noted he was an optimist. That the public is skeptical of media and information isn't necessarily a bad thing, he said. "The danger point would be cynicism. Skepticism, when held within reason, frankly I think is healthy for a person, healthy for a nation. I know it's healthy for a news consumer. Cynicism, no. That would be disastrous."
And though fake news continues to spread and has fractured the public's trust in institutions, Rather pointed out that polls do indicate at least one positive. "The overwhelming mood in the country is 'We're better than this,'" he said. "'We know better than this. We're better than this, and we have to start proving it.'"