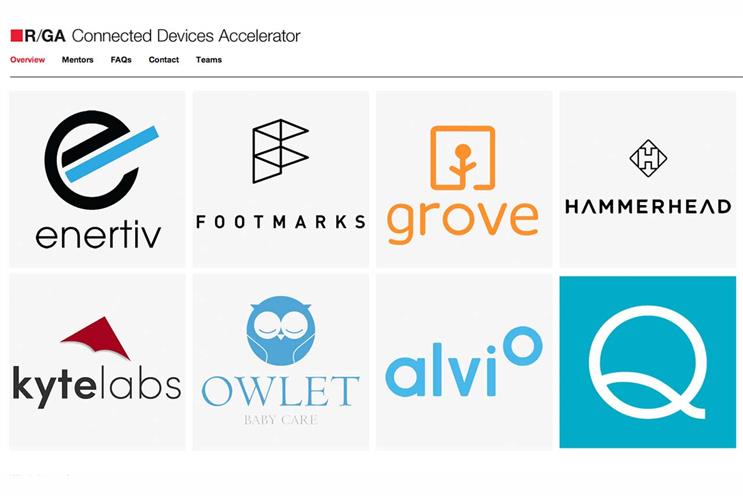 The agency has been working with the start-ups since December, helping them create a brand for their businesses.
On Saturday nine companies pitched to venture capitalists and brands, including R/GA clients Johnson & Johnson and Nike. Ten start-ups were originally selected, but one declined to pitch on the day.
The start-ups had developed products and services relating to sectors including farming, fashion and healthcare.
The theme of the R/GA accelerator, which was set up in partnership with Techstars, a mentor-driven accelerator company, was "the internet of things", meaning that all the pitching companies had incorporated connectivity and data into business.
Grove - whose chief executive, Gabe Blanchet, is a senior at the Massachusetts Institute of Technology - presented combined hardware and software to help farmers increase production by controlling water and atmosphere levels, among other things.
The company also has plans to create fridge-like products that would allow consumers to grow vegetables in their own kitchen, giving everyone access to hyper local produce.
Hammerhead's chief executive, Pete Morgan, presented his company's cycling hardware, which clips on to a bike's handlebars and guides riders through the best cycle routes using light displays.
Introducing the event, Stephen Plumlee, global chief operating officer at R/GA, said it was natural for his agency to handle the first connected devices accelerator because "new technology had been part of R/GA since its beginning".
Companies taking part in the accelerator have the option of accepting a convertible debt note, funded by R/GA, which would mean the agency would take a stake in the start-up.
R/GA plans to run another accelerator next year.