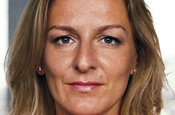 Webster will report to Auton, who remains as the chairman of IPC Media and executive vice-president of Time Inc and who will be based in New York.

Auton, who joined IPC in 1977, was appointed chief executive in 2003. She took on the additional role at Time Inc in 2006.
The move follows Caroline McDevitt's departure as the managing director of IPC Advertising, announced last month.
Auton said: "Over these last five years the board has successfully steered IPC from being a world-class magazine publisher to a world-class content creator and I have the utmost confidence that with Evelyn at the helm, the company will continue to flourish and grow.

"Although my US responsibilities mean that I will be moving to New York, I will be returning to the UK regularly. IPC remains close to my heart and I am looking forward to continuing to work with Evelyn and the superbly talented IPC Media board to take this company to even greater heights."

Webster joined IPC in 1992 as a graduate trainee and went on become a publisher within the then IPC Specialist Group.

She was appointed to the IPC board in 2003 as managing director of IPC Country & Leisure Media (now IPC Inspire) and became managing director of IPC Connect in March 2004.

Webster said: "I have been fortunate enough to work with Sylvia for a number of years and she will be a hard act to follow. However, I'm looking forward to working with her and the rest of the IPC board to continue to build upon the company's success."