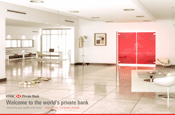 The bank has moved away from its current positioning of "Assume nothing" and moved closer to the parent HSBC brand, adopting the tagline 'The world's private bank'.

The online ad campaign is based on real stories about providing connections for HSBC Private Bank's clients. As the HSBC PB brand campaign develops over the coming years, more of these stories will be featured.

Tony Joyce, the global head of marketing and communications at HSBC Private Bank, said: Syzygy impressed us with its verve and energy, and we are very pleased with the way they have designed our online presence to create impact through both the microsite and web ads.

Syzygy will work alongside fellow WPP agencies JWT, Mindshare and The Brand Union on the account.