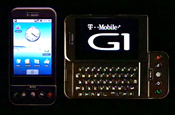 The phone will allow users to download their own applications, rather than being stuck with those provided through the phone company.

The open source nature of the software promises to make it much easier for third parties to develop applications for mobile handsets.

Jim Hyde, the chief executive of T-Mobile UK, said: "Customers can tailor their phones with access to a variety of innovative applications.

"We're thrilled to offer this exciting breakthrough that gives people unlimited freedom to communicate the way they want to - it will change the way we use our mobiles."

Speaking to a press conference in New York today, he said that he hoped the technology would increase mobile broadband penetration, which is currently much lower than that of other technologies.

The G1 is manufactured by the Taiwanese company HTC, and will be available in the UK from early November.

Motorola, LG and Samsung are all expected to launch phones using Android technology next year.