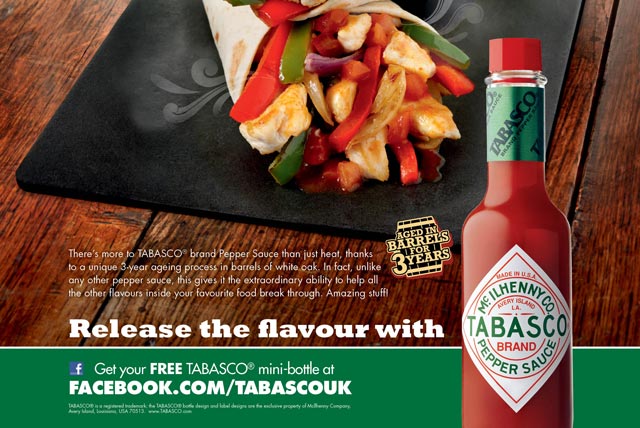 The campaign, which has been devised by Spinnaker, will introduce the strapline, "Release the flavour with Tabasco", in a bid to inform consumers that it is more than just a pepper sauce.
It kicks off at the beginning of July and will run across press and online, and includes a sampling campaign. Central to the campaign will be a social media drive running across Facebook, YouTube and Twitter. It is also hoping to attract activity from food bloggers.
Marketers at Tabasco believe that consumers view Tabasco as just a hot sauce.
They are now making a concerted push to broaden its appeal, so that it will be seen as a flavour enhancer for all sorts of cooking occasions and recipes.
Louise Keohane, brand manager of Tabasco, said: "Most people have a bottle of Tabasco in the back of their cupboard. We want to liberate it and allow it to claim its rightful place next to the salt and pepper as a flavour enhancer."
Tabasco is made by the US-based McIlheney company.