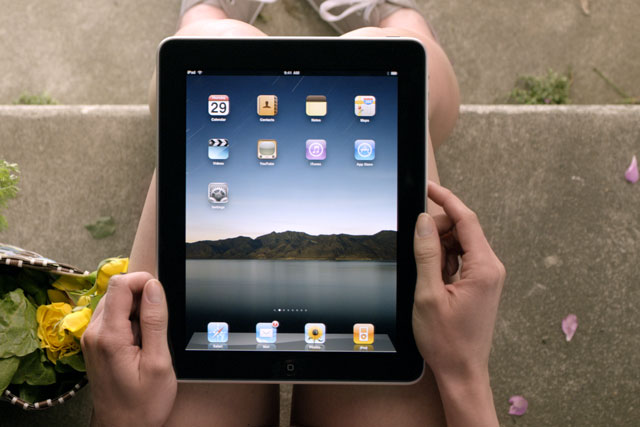 A certain amount of natural anxiety builds in the lead-up to Apple's quarterly results announcements these days. Apple is currently one of the world's few non-dysfunctional companies of any size - so for it to be sucked into the general slump with the rest of us would be terribly distressing.
Apple has become, in short, a beacon of hope; and for media owners, the anxiety is perhaps felt twice over because Apple is the leading manufacturer of the devices that might help build them a more secure future.
We are talking about the sorts of media companies (primarily, but not exclusively, those with a print heritage) that struggled to develop sustainable digital business models across the first decade of the new century. They are the sorts of companies that reckon they might fare better in an era when the emphasis is shifting to the mass consumption of mobile content.
Apple builds the toys that may make their dreams come true - iPhones, to a certain extent, but perhaps more importantly, iPads. And though the company is not as omnipotent as we once thought (few companies are excused the sorts of design flaws that Apple routinely laughs off; and Samsung now has a greater share of the smartphone market), Apple's tablet performance is likely to remain a bellwether indicator for a sector that it created in the first place.
The good news is that its figures are as good in general as they are for tablets in particular. And the release of these interim results coincided this time around with some rather interesting research about tablet demographics (and thus their possible ad market impact) from a number of sources, not least the IPA.
1.Apple announced that in the quarter to 31 March, it notched up a profit of $11.6 billion (£7.1 billion) on revenues of $39.2 billion (£24 billion). Worldwide, it sold 35.1 million iPhones during the quarter, up 88 per cent year on year, and 11.8 million iPads, a 151 per cent year-on-year increase.
2.According to recent industry estimates, 45 per cent of the UK population now owns a smartphone. UK tablet penetration stood at 1.6 per cent last year, but is now reckoned to be closer to 5 per cent.
3.Figures from the IPA TouchPoints4 survey, published last week, reveal that tablets are a London thing, with 38 per cent of the UK's tablet owners living in the capital or the Home Counties. Manchester, the UK's putative second media city, accounts for only 13 per cent of national tablet ownership. It is an upmarket habit too, with 69 per cent of users in the ABC1 demographic. But, perhaps surprisingly, ownership is not quite as skewed towards younger age groups as you might guess: 42 per cent are in the 35- to 54-year-old range.
4.ComScore figures released in March revealed that 46 per cent of UK smartphone users access mobile news websites or apps at least once a month - the highest usage in Europe. However, one slightly worrying statistic to emerge from the latest TouchPoints4 figures is the notion that the smartphone's potential as a media platform may be stalling. For instance, 50 per cent of smartphone users say they never use apps, while only 16 per cent say they access them daily. App refuseniks will not be itching to upgrade to a tablet.
5.Many observers continue to argue that tablets will inevitably define a new era of digital media consumption, although there is a more sceptical minority view. For instance, a study by Harris Interactive, published last year, asked respondents to imagine they could afford to buy and use any type of gizmo currently available and then asked them to rank these devices according to type. Laptop ownership was the most desirable aspiration, followed by the smartphone. Only 52 per cent put the tablet in their list of top three desirable gadgets.
6.As the numbers build, the challenge for media owners will be to make the most of this opportunity by developing compelling new advertising formats. In March, Telegraph Media Group (in conjunction with DoubleClick) won the Internet Advertising Bureau's inaugural Future Format award for the best new display advertising product. The format, Cascade, is a multiplatform offering that expands section by section as the user engages with content and swipes down the page.
WHAT IT MEANS FOR ...
ADVERTISERS
- Recent figures from Kantar Media's Premier TGI survey reveal that 9 per cent of Britain's most affluent consumers own a tablet - and for advertisers, disposable income allied to early adoption adds up to a compelling proposition.
- Upmarket tablet users are "spontaneous and materialistic", being 79 per cent more likely than other upmarket adults to spend money without thinking. This group spends an average £50 per month on clothes, £26 per month on skincare and £24 per month on spectator sports events - figures that are roughly twice the average for all upmarket consumers. This is an audience worth chasing.
MEDIA OWNERS
- Most media companies with a print heritage have, for a decade and more, used their websites unimaginatively - by and large using them as a dull dumping ground for uninspiring content.
- At their best, tablets can deliver content that can knock your socks off - astonishingly clear photography, pin-sharp typography, animated graphics and 3D-style virtual reality constructs. The challenge for media owners will be to give more creative space to the people who can lovingly realise this potential.
- Likewise, media owners have to begin employing people who love beautiful advertising and who are willing and able to work hand-in-hand with agencies to create it. If media owners can find a way to do that, revenues will surely follow.
- And there's something in this for TV companies too. Thinkbox research continues to show that people watch TV on tablets (or laptops and mobiles, for that matter) to extend their TV viewing into new locations and times to fit around their lives.