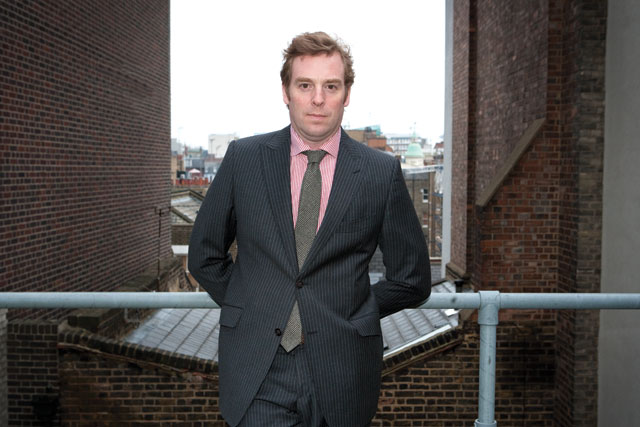 Kerin O'Connor is feeling a tiny bit glum. At the end of last week he was supposed to be at a conference in Monaco, but thanks to some last-minute scheduling adjustments, he finds himself staring out at drab London's leaden grey skies instead.
Probably just as well. Although preparations for The Week's iPad and website launch, planned for Friday 18 November, have been in progress for many weeks and have gone rather smoothly, there are always final details to be finessed.
But the magazine's softly spoken and deceptively laid-back chief executive seems rather confident. Dennis Publishing's digital team, we can be assured, have earned their corn on this one.
The Week has gone down the now-conventional route with its iPad edition, replicating the print magazine experience faithfully (allowing readers, as O'Connor puts it, "to swipe through their favourite magazine, wherever they are, any time of day") for tablet consumption, and access is via Apple's iOS5 Newsstand.
The tablet version will be available free for the first four weeks, thanks to a partnership deal with Rolex, and print subscribers will automatically gain complimentary access to the iPad edition for a 12-week trial period. Customers will be able to download individual issues via iTunes for £2.99 or subscribe for £24.99 per quarter.
Arguably, Dennis Publishing hasn't yet been at the forefront of tablet publishing, but the case for an iPad edition of The Week acquired irresistible momentum when it was discovered that, while just over 1 per cent of the UK population owns an iPad, 16 per cent of The Week readers have one.
And clearly, once O'Connor had decided to take the iPad plunge, the spotlight quite naturally also fell on The Week's web presence. Again, you could maintain that The Week has been rather laggardly in this area. The title's US edition, for instance, has had a website since 2007.
Alternatively, you could make the case that the UK operation has been rather cute about its digital strategy. It has declined to sleepwalk into the rather unimaginative (and financially ruinous) approach to digital news pursed by almost all newspapers and most magazines, refusing to throw resources mindlessly into what O'Connor calls the "endless river" of online news.
Meanwhile, it has been co-opting digital channels very much to its advantage - in recent times, one half of The Week's subscription growth has come via digital channels. In other words, the operation more than meets the "retail migration" test that sorts the digital sheep from the digital goats.
The emphasis of that strategy will now change, and Dennis' news operation, The First Post, will be subsumed into a new theweek.co.uk site, whose content will be continually updated, but will not feature any material repurposed from the print version of the title.
Hang on, though. Doesn't that erode The Week's brand heritage as a supremely concise news digest? Absolutely not, O'Connor responds: the site's journalists (with a staff of eight or so, it will be a tight ship) will be filtering and interpreting with the same "radical simplicity" that is The Week's forte.
The hope and expectation is that these digital initiatives will help The Week maintain momentum as a brand and an all-round media phenomenon. Circulation on the print product has almost doubled in six years, up from 105,996 (ABC, Jan-Jun 2005) to 183,617 currently. Revenues this year (advertising plus copy sales) are up by more than 8 per cent year on year. Not bad going in the current climate.
O'Connor says he'd rather not make any hard and fast predictions about growth potential, but he clearly suspects that the iPad is a proverbial game changer. "I think we all know how difficult it has been to monetise websites, but tablets are a different proposition," he argues. "For readers, there's a more fluid transition between the print and iPad (experiences). People know where they are, and they're likely to spend half-an-hour (reading an iPad edition)."
And that, in turn, means there will be a stronger consumer interaction with advertising. We're not just talking about conventional display formats either. O'Connor says that the opportunity here will be about advertising and editorial working hand-in-hand to create really integrated campaigns.
Will advertisers be interested in that sort of proposition? Most probably, Vanessa Clifford, the head of press at Mindshare, says. As well she might, you could suggest, given that The Week's three commercial launch partners for the iPad edition (not just Rolex, but Jaguar and American Express too) are Mindshare clients.
But she argues that Dennis is the sort of company that tends to get this sort of thing right. It's a biggish outfit that has managed to keep the innovative entrepreneurial culture that you tend to find in smaller, newer companies, she explains.
"Dennis doesn't carry the management clutter that some publishing companies have," Clifford says. "It's able to react quickly to do the things it believes are right. It clearly believes this is right."
And, of course, O'Connor, as a Dennis veteran (he's been associated with The Week off and on since joining the company in 1996), is very much a part of that.
Clifford concludes: "I've a lot of time for Kerin. He's good at selling the brand, but he sees the bigger picture too. Discussions tend to be fruitful."
THE LOWDOWN
Age: 40
Lives: Bayswater
Family: Antonia (wife) and son, Wilf
Last book read: Reamde by Neal Stephenson
Currently listening to: Zig Zaj by Boom Bip
Must-have object: A handmade suit
Interests outside work: Wine, music, books and sleep