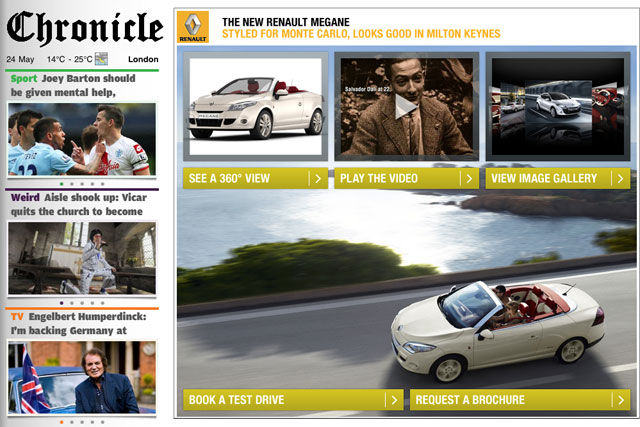 The research, carried out with partner Ipsos MediaCT, studied consumer attitudes towards tablet advertising and was based on a survey of 1,000 tablet owners.
Renault and its agency Publicis created a series of ads for the research that were tested on the participants, and qualitative interviews also took place.
It found that 55% of the respondents felt that tablets could offer different advertising to any other media, and that they expected the unique functionality of tablets to be incorporated into the ads they see.
However, 30% of the sample had a negative overall opinion of the ads they had seen on tablets.
The research shows that tablet users are open to advertising, with almost two thirds of respondents willing to see more ads on tablet apps if it meant lower upfront costs.
It claims this means consumers are "comfortable" with the value exchange of ad-funded content on tablets.
Interactive ads that include a video or gaming element are received better than static ads on tablets.
When comparing the static and interactive ads, more than three times as many respondents thought that the interactive ads were innovative. The interactive ads were deemed to be "engaging" and "memorable" by around twice as many respondents.
It found that context, as with other media, is important for tablet ads, with 95% of respondents saying it was important that tablet ads were unobtrusive and did not interfere with what they were doing. Meanwhile 82% said that ads should be adapted to the content around them.
Alex Kozloff, senior mobile manager at the IAB said: "One of the most interesting points we found is that the relationship between consumer and brand is so much more positive when the ads are interactive.
She said it was very early days for advertisers creating tablet-optimised advertising, with most advertisers "holding back", meaning there was "definitely great potential" with tablet ads.
Kozloff added: "It is fantastic to see that the interactive rich media formats available today seem to be hitting the spot amongst respondents across a number of measures."
Research from the IAB and ValueClick in May, found that half of internet users were happy to see online advertising because it supports online services and content at little to no cost, with only one in 10 willing to pay for ad-free content. Follow @shearmans