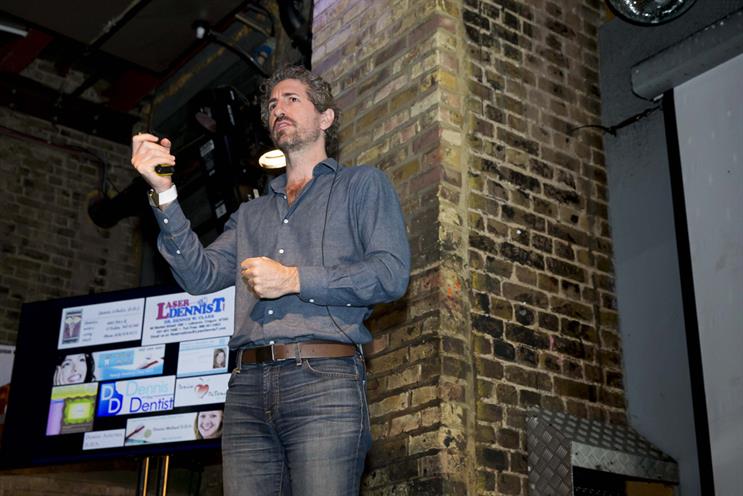 Taking middle-option-bias as an example, Cerf said, when shopping for wine and faced with choices priced at £5, £10 and £20, the middle option will seem like the best option.
"Now, if the supermarket wants to make you buy more of the £20, they will put a £50 or £70 on the right. And you would choose the £20 and think you made the decision yourself," he added.
This edition of Campaign Underground, sponsored by R/GA, which took place on 18 April, examined the existence, causes and consequences of Unconscious Bias within the field of marketing to better understand how it can be overcome.
The first step, Cerf said, is to acknowledge that it exists.
"Most people, if you ask why they did something, or made a choice, they will tell you a story that's often inaccurate or a lie. This could be because they want to lie, or because they're rationalising something and therefore lying to themselves," he said.
An example of this are gym memberships. "We pretend we buy it for ourselves, but really, we're buying it for the skinny version of ourselves. There's even a gym in Los Angeles that has people pay for a year's membership up front, but everytime you show up they'll give you $2 back. If you show up every day, you'd get the entire fee back... but no one does," Cerf said.
While humans mostly believe they have a single sense of self, the reality, as science understands it today, is that there are many voices in our brains that govern decision making. We make decisions according to the majority vote and this may not be true to reality at all.
"For the most part, our brains create realities for us and we believe we wanted to do something or we chose something because it more or less aligns with our internal narrative," Cerf said.
The problem is that we don't question our brains enough. We believe everything that comes up inside our heads, he continued. "You believe what's in your brain is real and you never doubt it, so you're automatically biased against any external input."
In one experiment, participants were offered two cards and asked to pick the person they found more attractive. The person conducting the experiment would then hand them that card and ask them later to justify why they picked that person.
But every so often, the experimenter would use sleight of hand to give the participant a card they had not chosen and asked them to justify their choice.
Only 13% of those who took part noticed the change. The rest? Rationalised the choice as enthusiastically as the ones they'd actually made.
This bias is called "choice blindness", where under certain circumstances we are oblivious to a choice made but we will defend it because we believe we made that choice.
"We look at our memories and we rationalise it. If I changed your memories, you'd change your narrative. Your reality is biased based on what is there not what you want," Cerf said.
Why Dennis is more likely to be a dentist
Other biases outlined in his talk included the propensity for people named Dennis in the US to become dentists because, throughout their lives, they thought people were calling their names when they talk about dentists giving them a slight feeling of ownership towards the profession.
In another experiment, participants were found to either write happy thoughts about their mothers when given hot tea versus mean, angry thoughts when their tea was cold.
"We can now separate the biases. To split the thoughts that happen under the hood with the thoughts we can explain We can change it and make it better," Cerf said. "And I can talk to the voices in your head behind your back and change your behaviour."
The key takeaway from this slightly creepy and rather discomfiting talk, Cerf said, is not to believe everything you think.
"Leave with one understanding. In your head, you have more than one 'you'. They have multiple voices and you will speak with the voice of the majority. To listen to the other voices, stop believing everything you think," he said.