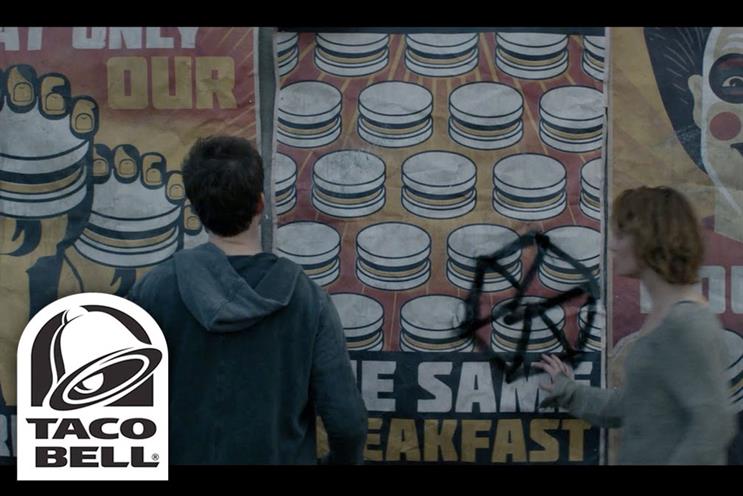 Taco Bell is reigniting the breakfast wars with a new campaign that conjures up a vision of dystopia, encouraging consumers to break free from the drudgery of fast-food breakfast.
The fast-food chain entered the breakfast category last year, with a provocative campaign by Deustche LA, poking fun at McDonald's mascot Ronald McDonald. For its new campaign Taco Bell once again takes the category to task, highlighting the dullness of the circle-shaped breakfast sandwich.
The three-minute "Routine Republic" film, directed by Michael Spiccia is reminiscent of the movie "A Clockwork Orange," with an oppressive prison, representing the monotony of fast food breakfast. Emboldened by a hexagon symbol, which is supposed to represent Taco Bell's Crunchwrap, two prisoners escape to find a new land where they enjoy Taco Bell breakfast.
"The Routine Republic felt like a fun metaphor for the sea of sameness, blandness and lack of choice, that is fast food breakfast," said Brett Craig, ECD, Deutsch LA. He said the idea is to inject a bit of lightness and fun into the category. "Without the wink in it, it doesn't work," he said.
The film is layered with references to its competitors in the industry, linking them to the Routine Republic, such as a kiddie area and ball pool. Unlike the previous campaign, which called on real life Ronald McDonalds to endorse Taco Bell's breakfast item, this campaign doesn't go after one competitor in particular, rather the category in general.
Within six months of Taco Bell's breakfast launch, its breakfast awareness levels reached those of Burger King, which had been in the breakfast category for about 10 years at that point. Nationwide, franchisees had a record sales week during the launch, according to Deutsch LA.
According to Craig, the key takeaway from last year's campaign is that the new creative "had to be disruptive work with PR built into it."
"Our main learning is to be bigger, louder and make more of a splash than last year. It is daunting because it blew up in the media," he said.
In addition to the three-minute film, there is a propaganda film, available on a dedicated Routine Republic site, two TV-spots, directed by Kris Bellman, and OOH, featuring propaganda style posters.
For the PR component of this campaign, Taco Bell is running an influencer campaign with its super fans, sending out "defector kits" to spread the word about breakfast defection. A "Breakfast Defectors" site will host the real life stories of consumers who have defected from their breakfast routine.
Last year, McDonald's responded with an image on its Instagram of Ronald McDonald, patting a small dog with the caption: "Imitation is the sincerest form of flattery." Let's see whether Ronald will take the bait this year.