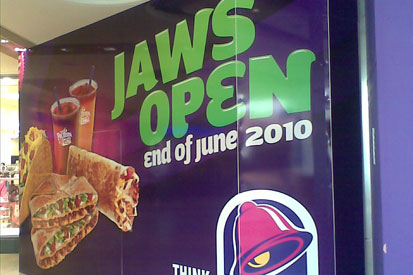 Experts believe Taco Bell will have a better chance of success now than when it failed to capture the imaginations of British consumers in the 90s. However, some have cautioned that it could cannibalise sales of established Yum!-owned chains KFC and Pizza Hut.
The US restaurant group will open a Taco Bell outlet at the Lakeside shopping centre in Essex at the end of this month. Other openings are planned throughout the rest of the year.
Yum! previously launched branches of the chain in London and Birmingham in the late 80s but they failed to perform strongly enough, leading to their closure a decade later.
Neil Saunders, consulting director at retail analysts Verdict, said: "The Mexican market is now growing. When Taco Bell last opened up here, the UK was not as cosmopolitan as it is now."
However, he warned that there was a limited market for value fast-food and suggested that Yum! should be careful about locating Taco Bell stores near to existing Pizza Hut and KFC outlets, particularly in shopping centres.
This view is shared by Christopher Nurko, global chairman of branding consultancy FutureBrand. He said: "Taco Bell's footprint needs to be managed very carefully. It's all about location, location and location."
However, Mike Cullis, managing director of marketing agency Elvis takes a different view.
He said: "Pizza Hut is about a shared occ­asion with family and friends. Taco Bell is more about quick service and value."
Nick Dawson, general manager at Taco Bell UK & Europe, stressed the importance of the UK market for the brand.
Dawson said: "This is a major step in our international expansion, and Lakeside is just the start. There's a gap in the quick-service markets for a concept like ours."
Yum!, which recorded turnover of $10.8bn last year, is looking to expand into other territories to offset stagnant revenues in the US.
In its domestic market, Taco Bell has a "value", "fun" and "tongue-in-cheek" brand positioning and this is expected to be extended to other countries.
In the US the company claims to serve more than 35 million customers a week across more than 5600 restaurants.