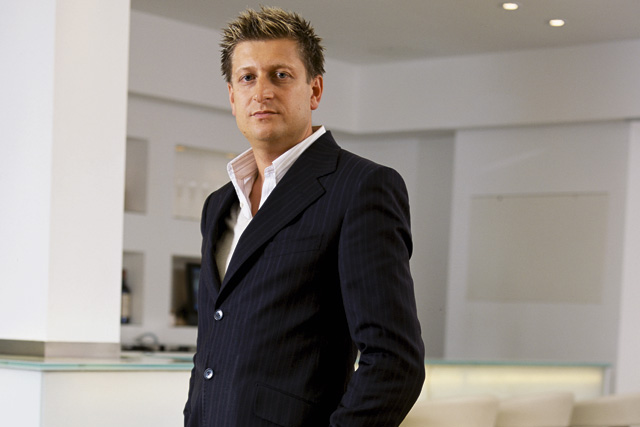 Steve Parish is nothing if not a realist. As the chairman of Crystal Palace FC, he's hoping that the football club, having escaped relegation from the Championship last season, might just be sufficiently well-positioned at the end of the coming one to grab a place in the play-offs.
As the chief executive of TAG, one of the major suppliers of backroom services to advertisers and agencies in the UK and beyond, and now the newest subsidiary of the global marketing solutions provider Williams Lea, Parish is equally aware of what he needs to do to stay in the game.
Just as the football club will need investment from the consortium of wealthy fans that Parish leads if it is ever to realise its ambition of holding its own among the Premiership big boys, so TAG has also reached the stage at which a leg-up will come in handy.
The marketing execution and production business, which TAG helped drag out of the dark ages on a fast-flowing tide of new technology, could even teach football a few lessons when it comes to polarisation between the "haves" and the "have-nots".
Where TAG was once the only game in town, having won much respect for the way it combined agency assignments with direct work for clients without upsetting any of its paymasters, the marcoms giants have now muscled in.
Omnicom has Gutenberg Networks, which specialises in TV, print and digital production, while Publicis Groupe has Mundocom as its global production platform.
Meanwhile, WPP's Sir Martin Sorrell, rebuffed in his efforts to acquire TAG, has adopted an "if you can't join 'em, beat 'em" strategy with Hogarth Worldwide that offers high-tech solutions to the problems of delivering high-quality advertising at low cost.
The effect of that consolidation is reflected in the fact that TAG, whose activity five years ago was split almost equally between agencies and advertisers, now reckons that between 70 and 80 per cent of its work comes directly from clients. From now on, Parish believes that most of TAG's agency work will be from the independents rather than the big network offices.
"We feel there's room for one big independent like us," Parish says, who still has in-house joint ventures with a number of agencies including CHI & Partners and Mother. "We can be to our business what Carat is to media."
Ironically, it's arguable that Parish, one of the first to understand the importance of new technology in reprographics and for bringing excitement into what had been the unsexiest part of the ad business, has actually helped bring about what has happened.
Parish has always been about quality rather than volume, and his helping hand to many UK agency start-ups has enabled him to keep the ad business onside.
"Parish and TAG have given agencies access to a depth of skills and execution that they would not have been able to build for themselves - certainly not the start-ups," James Murphy, the Adam & Eve founding partner, says.
"Whether start-ups or offices of multinational agencies, all have improved efficiencies by partnering with TAG to deliver campaigns across multiple markets."
Garry Lace, the Beta founding partner, is equally complimentary. "He's built a business under the radar, yet he's as astute as the head of any big holding company while being disarmingly down-to-earth," Lace declares.
Doing a deal with Williams Lea, for a figure rumoured to be north of £100 million, certainly holds out the prospect of TAG being able to add depth and scale to its international offering. Not least because its new owner is a subsidiary of the giant Deutsche Post DHL.
Having fended off would-be suitors before, Parish decided the time was right for a marriage that would allow TAG to build from its solid business base, and that Williams Lea had the necessary resource.
"We're a very profitable business that delivered £110 million in sales last year, and we have a raft of global clients," Parish states. "However, we felt we couldn't build scale fast enough. Clients want to buy ideas from an increasingly diverse range of agencies - but they want to deliver those ideas through a few agencies that are best in class."
Although Parish and Tim Griffiths, the Williams Lea chief executive, had known each other for ten years, the deal took many by surprise. But Parish says: "It's a good fit. Williams Lea provides logistical solutions to clients with which it has very strong relationships. It also helps that we share a number of clients such as Jaguar Land Rover."
He believes the Williams Lea alliance has already helped accelerate TAG's global aspirations. "With its help, we've just set up in Russia and Dubai," he says. "It's taken just a week. We could never have done that by ourselves."
Griffiths insists that while there are opportunities for cross-referral of clients, there are no plans to merge TAG into the parent company. "Our skills are complementary, and it's important we retain TAG's clients and staff," he says.
Presumably, that includes Parish himself. The man who built TAG into a powerhouse is adamant he'll see the company into the next stage of its evolution. "I'm committed to staying at least a year, but that doesn't mean I won't stay longer," he says. "It's a different environment, but I love what I do."
Agencies are just hoping that kind of dedication will prevent Parish becoming too remote. "He has always cared about us and we'll want to still feel that's the case," one boss says. "He mustn't become detached, and I don't believe he will."