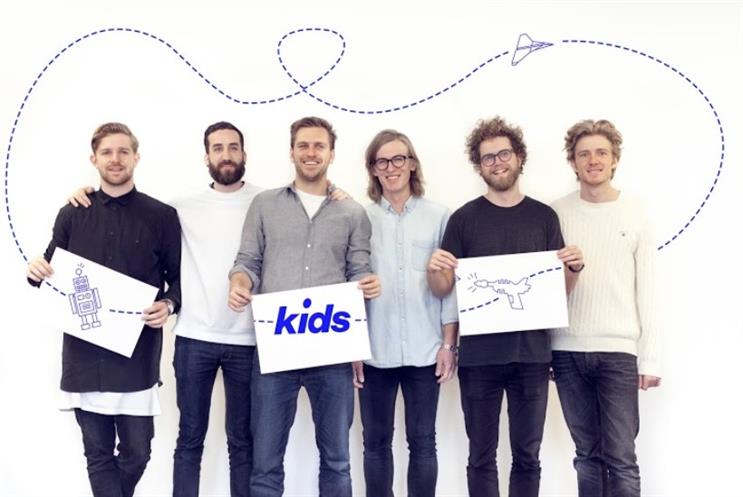 When six young creatives from different parts of the world met on Hyper Island's Interactive Art Director program in Stockholm, they discovered a common passion. A desire to explore the world, soaking up experiences and skills, before launching their own creative business.

The initial plan was to travel to Thailand once the course was over. They'd spend two months dreaming up creative concepts for a company before trekking back to reality and bringing their chosen idea to life.
Left to germinate for several weeks, the group eventually abandoned the idea of going to paradise and waiting for inspiration. Instead they decided to go out into the world and look for it.

The six guys are a couple of weeks into an internship that will span three cities in three months. Starting in London, they will then travel to Hong Kong and on to Los Angeles, during which time they will work in marketing and advertising agencies, with start-ups and for clients as a collective called The Kids.

Aged between 23 and 30, they are made up of Joppe Muller from Amsterdam, Valentin Cheri from Zurich, Mads Daugaard Mortensen from Copenhagen, William Sporre and Rickard Liljeros from Stockholm, and Frédéric Savioz from Geneva. Between them, they already list creative problem solving, marketing and PR, branding and design, strategy and UX among their skillsets.

As they're in town, I caught up with one sixth of the collective, Muller, to find out more about their goal of exploring the world through the lens of a child.

Where did the name The Kids come from?
One thing we learned on the Hyper Island course is to redesign everything that comes along. So we decided to travel the world through the perspective of a kid. We're going to question things, give ourselves the opportunity to explore, and see possibilities in everything. Kids have wonderful imaginations and that's what we're going back to.

Why did you decide to market yourself as a collective?
I learnt at Hyper Island that if you can manage the dynamics of a group - in any company - you're onto a great outcome. We feel six brains together are much stronger than one or two. That's where our power lies.

We all have different cultures, standpoints and backgrounds, and we all inspire and spark off one another. Each one of us cares equally about making our proposition as good as it can be.

What work do you have lined up so far?
In LA we'll be working for a huge alcohol brand doing several projects. In both London and LA we will be working more on the client side. In Hong Kong there is a huge start-up market, as well as lots of agencies, so we decided to approach these businesses and get a different insight into their cultures. At the moment here in London we are working with Hackmasters, founded by Saher Sidhom.

What do you want to learn?
I want to know what clients are looking for and to learn about how they operate. We think we know, but really we don't have a clue.

Do you feel you've already learned a lot already?
Definitely. We've been working on our concept, story and strategy to get clients for our company for many months now, and we're asking creative directors and established strategists for feedback, which has been interesting.

I've started two of my own companies in the past, but I had never really got to know the people I started the businesses with. We're going through this huge learning experience to prepare our professional relationships before The Kids actually launches, which so far has been of huge benefit to us.

Where will you base yourselves when The Kids launches?
There are lots of options. Berlin is high on the list. None of us have lived there before and in terms of quality of life it's pretty good. We're keeping our options open because something might change our minds during the internship. Maybe we'll split to have half of us in one market and half in another.

Do your peers and fellow students share in this exploratory mind-set that you guys have?
Someone once asked me what was the most important thing I learned on the Hyper Island course. I learned a lot about myself here. It helped me to manage my life, not just my career. The approach to learning is really collaborative. Being able to work with anyone is in my view a super powerful skill. Being able to open up to anybody, make connections with people and have them trust you is better for business. I think a lot of people in my generation are really interested in this.
You can follow The Kids' progress on Twitter and the group's Facebook page.