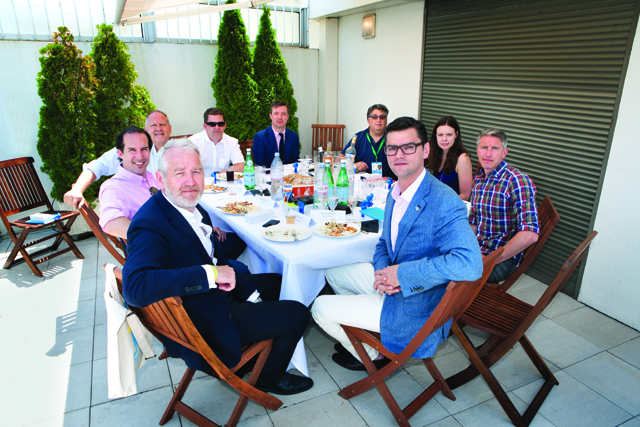 Clockwise from bottom right: David Reed, managing director, EMEA, MediaMath; Paul Keenan, chief executive, Bauer Media; Paul Smailes, global head of digital, Heineken; Pete Krainik, founder and chief executive, The CMO Club; Sam Finlay, head of digital advertising, IPC; Philip Smith, head of content solutions and studio, Campaign and Brand Republic Group (chair); Carl Fremont, global chief digital officer, MEC; Megan Pagliuca, vice-president and general manager of display media, Merkle; Doug Ray, global president, Carat; Bonin Bough, vice-president of global media and consumer engagement, Mondelez (not pictured)

What are the latest new developments in advertising, marketing and technology that inspire you and your business, and why?
Carl Fremont, global chief digital officer, MEC: Definitely programmatic because of automation. For me, prog-rammatic means that we can spend more time on the strategy and the ideation and we'll be able to gain better talent and better results because we're not doing a lot of that manual work.
Sam Finlay, head of digital advertising, IPC It's programmatic for us. But we see it as just a trading tool at the moment, which is really quite disappointing. The stuff that inspires me is anything that can take some of the low-rent imagery out of the market. I like the viewability argument.
Doug Ray, global president, Carat I think that there'll be a shift from having 20 individuals paid $35,000, to maybe four $100,000-paid individuals, and we'll be looking for better implications of this.
Paul Keenan, chief executive, Bauer Media I think the inspiration is around inspiring content teams that we have to invert our model. We've built an amazing business on the premise of "if we build it, they will come" and it's quite exciting to work through the concept of taking our content and distributing it to where people are and seeing how that content influences their behaviour all the way through.
The promise of programmatic is that it frees up time for us to have more value-adding strategic conversations with clients about their goals. Media agencies in the UK have been phenomenally successful at repositioning themselves over a period of time as a strategic partner for their clients.
I think the downside of programmatic is it will commoditise it and render the process of media to one in which the magic, the serendipity, is lost. You know… "the fact that I do that today suggests I'm going to do that tomorrow" misses something really fundamental about why humans behave in the way they do.
I think our creative community has an amazing perspective on that, and good clients find that inspiration and find a way of working it from a number of sources.
Ray Media agencies are actually focused on the wrong thing. We need to stop talking about media outputs. These were originally proxies for business outcomes, but clients are clearly focused on sales.
A chief marketing officer or chief executive doesn't really care if they have a social page up or about the transparency or lack of transparency. What they care about is that they need to achieve a certain sales result. I'd say agencies can be very caught up in the media outputs.
Paul Smailes, global head of digital, Heineken For industries like finance, automotive, travel etc, programmatic already plays a much bigger role. For a consumer goods company such as us, we're at the beginning of the journey. Around 4 or 5 per cent of total media in the US – where it's most advanced – is programmatic; we're slightly above that there, but we're learning. I find it really exciting.
For me, the biggest challenge is how do you then leverage the power and potential that programmatic offers but then layer on top of that the creativity, the storytelling. And it's difficult because how can you use programmatic to follow the consumer along your story while they're also jumping across different devices.
Pete Krainik, founder and chief executive, The CMO Club The technology that gets me most excited, and what I'm seeing from most CMOs too, is this ability to identify the influencers, the advocates. More and more CMOs are looking at automated tools to determine being customer-centric, so consumers decide: "This is the kind of content I want, send to me when you get it. This is the format I want. This is the frequency."
Megan Pagliuca, vice-president and general manager of display media, Merkle On the digital side, it's the ability to be more consumer-centric because the industry is evolving to allow more address-ability. And now, not only do we have the addressability component, but, on the creative side, we can actually tell stories and we can communicate a branding message. Something that we just couldn't do from desktop units.
David Reed, managing director, EMEA, MediaMath There is no such thing as a below- and above-the-line blocking activity, so no consumer walks around and thinks, "awareness, awareness, awareness, consideration, consideration, buy"… they just don't think that way.
Paul, you were saying just that about the consumer journey. The fact is you are always accompanied by your device – you are at any moment a possible conversion, on the Tube, on a train, sitting here right now. Any of us could book travel, we could be influenced to buy Heineken, we could do all these things.
So what is marketing activity? What is CRM activity? What is point-of-sale information? It's actually all the same thing. All these things flow into a continuous consumer interaction and the way a consumer feels after a call-centre interaction influences them as much as a display banner – in fact, probably more.
What are the challenges that you face, as a business, and that your advertisers face?
Keenan Most brands are looking to develop valuable long-term relationships with their customers in which their customers have some form of emotional connection. To what David was saying, all of this technology and the multiplication in platforms creates for brands the opportunity to engage the same consumer. The flipside is that they have the opportunity to disengage their consumer as well, because, ultimately, when content becomes disruptive and negative and it just becomes a sort of annoying noise, then we're actually doing brands a disservice by seeking to over-communicate.
Our world tends to massively overestimate the short-term impact of these things – as somebody much smarter than me said – and underestimate the long-term impact. I feel that we're at that moment where we're massively overestimating this and I think the world will swing to a more considered, calmer, more structured consumer who is taking more control of what it is they're seeing and what they're reacting to, rather than being bombarded with noise. If you're transmitting noise, you are diluting… and I think we've all got to be very careful and work with clients to ration this.
Finlay Echoing Paul, it's getting the balance right. How do you use the data you're getting and use the knowledge that this gives you to form that relationship and do something creatively that you weren't doing before? Because I don't see many examples with what we're doing with agencies at the moment.
What's the brand perspective on this?
Smailes That resonates with me. Clients' needs haven't changed. We're just constantly looking to surprise and delight consumers. The challenge for us is how do you repurpose technology with creative ideas for them to stand out and really connect with consumers? A lot of the time we are focused on the next technology that's coming up and it's really about embracing what's out there now.
Bonin Bough, vice-president of global media and consumer engagement, Mondelez Our biggest challenge is our agency partners and our brands: are they knowledgeable enough on the technology available to think creatively about it and are they far enough out in front to identify new opportunities? How do we make sure that we continue to drive that education?
I'm a big fan of new. But we need to identify opportunities that can be either positive or potentially negative. If a big hotel chain had their ear to the ground, maybe they would have seen Airbnb when they were a tiny start-up with two people… and maybe they could have launched their hotel brand Airbnb and say that anybody who wants to use Airbnb can follow these four criteria and then we'll give you our stamp of approval. And all of a sudden maybe Airbnb potentially can't even compete. Are our partners thinking of these things early on? Either we don't do it or we're going to do it and we'll change our partner structure, that's the other implication.
Ray Absolutely, it's our role, but it's an evolving role. It probably wasn't the role agencies saw themselves in five years ago but there wasn't the innovation and technology that there is today.
What can people reading this article do to work the magic and boost ROI?
Fremont We still need to do more work to understand the components that are driving ROI so we can replicate it. We're not at that point yet.
Pagliuca Yes, I think the challenge really is aligned around organisational incentive models and that's a larger challenge than the execution itself. In order to be consumer-centric, you want to have aligned targeting and measurement across devices, channels and media.
Bough At the end of the day, it's a client challenge. It's a client issue and clients have to step up if we're going to solve it. And whenever I hear the measurement piece, I just think, really? And you hear it all the time. "You can't measure it, so we can't invest in it and …" But the only way we can measure it is if we do invest in it and, well, that's just circular and never going to happen. At the end of the day, we [clients] can control the ecosystem and quite frankly I think there's a little bit of laziness on the client side.
Krainik I think it's slightly different to your point. I think, from what I'm hearing from CMOs, is that there's this whole issue that you have a culture of change in your organisation to match the speed of change in consumers and tech-nology… and that they are wrestling with all these things.
Reed Well, changes in technology drive environmental changes. So you don't need a gas station if you ride a horse to work every day. And you don't start building gas stations until you start driving cars. And I feel like some of this technology is like we are delivering a gas station.
Ray I think marketing needs to take back from procurement because it's commoditising the agency – if we end up saying "We love the strategic thinking you've shown us on the business. We see the future in your planning work but we're going to make a decision based on how much you can save us", you know.
Who's winning in Mondelez and Heineken – marketing or procurement?
Bough We have a really great relationship [with procurement], to be perfectly honest with you. We set the strategic vision. I think we've struck a great balance between procurement and marketing but I also think we spend a lot of time with procurement. Bringing them in to help them strategically understand why we're going this way. And, quite frankly, we get pressured into making savings all the time. And the inter-esting thing about cost-cutting in this environment is that we're not going to squeeze any more value out of TV any more so it is either going to be that thing in combination with other stuff or new stuff. So it's actually allowed me to shift innovation in the business because the only place I'm going to find more value for lower cost is doing things differently – so I actually like that cost-cutting and procurement model.
Smailes I think it's not about winning… it's about winning together, so it is a balance. I would say procurement seems to have a bad reputation, but at Heineken, we actually work very well with them and they are our business partner. They understand what our needs are and it's not just about cost-cutting. It's ensuring that the quality is maintained as well.
We did go through a massive global pitch a couple of years ago and, yes, there was a big savings component to it but once you actually execute through that, you understand how actually very difficult it is. Because, sure, an agency can give you all the savings you want, but then the quality goes down the drain.
How do you get more out of your marketing technology?
Keenan I'm looking at businesses in the US that have got more data than they know what to do with and they've got a footprint which is huge and… those businesses are failing because their proposition is getting undermined and they lack any sort of greater response to that challenge. I think media owners such as mine or Sam's are ready to be challenged around creativity and the idea and integration.
And I think you should demand of us integration and compelling ideas which place the idea at the centre of the communication rather than it being platform-centric or technology-based. I think we're well placed to do that and we want to do it with and through your media agencies because we recognise that simplicity is what we all need.
Fremont Well, we've talked a lot today about where technology is helping in the ecosystem but I would say it's in creativity because, as I started today saying, programmatic is all about driving efficiency automation which allows us to move ourselves up. So I would say the one thing that technology would be about at the highest level is in driving creativity and about how brands and consumers connect.
Finlay I don't think technology necessarily changes anybody's overall strategic goal so it's really understanding that it can't be [the remit of] a small pocket of people in your organisation. At the moment you have your specialists in this new world. That's got to become across the piece so that everybody from content producers to commercial people understand what the capabilities are [of new marketing technology] and how you use it to support the overall strategic goal.
There's much more scope for using prog-rammatic now and all the consumer insights that you can get from it will unlock value, and that's where we should be heading.
Pagliuca The key thing in the vision we're all aligned on is that if we really want to put the consumer first, we have to change the organ-isation focus, so it is a consumer-centric organ-isation versus a product-centric organisation. For that type of change to happen, it has to come from the top down.
Smailes Technology can help move away those low-value tasks, like reports and basic analysis, to allow the teams to spend much higher quality time understanding the implications. But you need to understand it to unlock it and get your teams to spend time with it and improve their capabilities with it.
Reed We're talking about step changes that are happening and about focusing outside your industry to see them coming. There's a massive opportunity with programmatic and this really is a brave new world. But I think this displacement will be a positive one and not a negative one.
Bough Programmatic is not a price game. It's the opportunity and the data potential from it. All media will be bought programmatically. That's the bottom line. Now I can actually add greater value because I can target people with data behind it. And that's why I think programmatic is so important to move on right now.
But we also have to ask ourselves, are we preparing our organisations to be filled with talent that can actually compete? At the end of the day, overhead walks on two feet. So if you're not prepared to compete with the new talent that's coming in and looks the same except they have digital affluence, then you're going to be finished. But if we can do that – retrain ourselves and re-skill ourselves and focus on talent – then they will transform our business for us.
Ray In order to engage people to buy brands, we can use technology and data but that has got to inspire the imagination and actually capture the attention of those consumers. So we want to use technology and data to enable us to scale our ideas and content.
Takeouts
Ray Embrace change. Do things differently and do them better. I like the 70-20-10 model: 70 per cent is what you do that you know that works; 10 per cent is stuff that you have no idea if it will ever work at all and the 20 per cent is the stuff that you've proven out in the 10 per cent that seems to be working.

Bough It's about management culture. I think there will be an attack on talent over the next three to five years that we've never seen before. I worry that as organisations we're not preparing our talent to compete as individuals. We need to focus on
re-skilling ourselves.

Finlay Programmatic shouldn't be dominated by price and margin. There's much more scope for its use. And all the consumer insights you're getting from that unlock value, and that's where it should be headed.

Krainik The biggest idea you need for your company will not be found from your competitors. Look outside your industry for the next big idea – and that's different from ten years ago.

Smailes You need to understand programmatic to unlock it. Get your teams to improve their capabilities in this marketing technology era in order to ensure success for the future.

Keenan We're on the same journey, the client, the agency and the media owner – of changing our business from a focus on product platform to one that is focused around the audience. Things are changing so quickly. There is a huge opportunity for misunderstanding and misalignment and complexity. And we need simplicity, clarity and alignment, and I think that's what I've heard here.

Reed Programmatic is a tool and it helps publishers. In the end, it helps drive advertiser outcomes. It's growing so fast; there's a massive opportunity.

Pagliuca So I think the important thing is moving to a customer-centric organisation and how do we as an industry overall train more of the right talent?

Fremont Everything we've talked about today is disruption. Whether it's programmatic, or about talent, or even about procurement, we're disrupting the way marketing is evolving while brand objectives are not changing and will never change. Marketing is being transformed by technology in all aspects. I think we all need to be a marketing developer and know how to build on those open-source platforms that exist today.