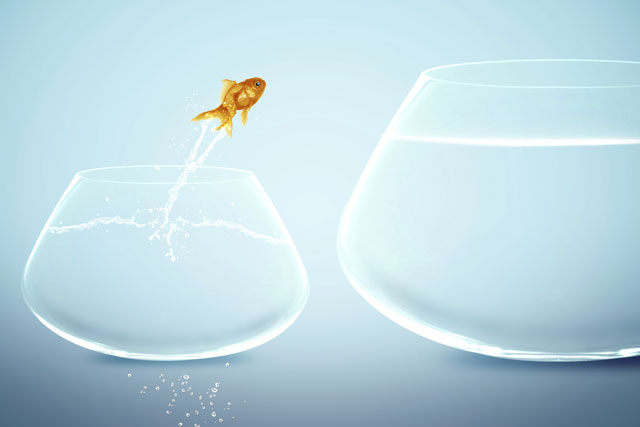 Back in the old days (and by this, I mean just a few years ago), most of us went to our workplace, stayed for 8 to 10 hours, went home, watched TV and were pretty much told what to watch, when to watch it, and what to buy in between. Among all the changes brought about by the tech revolution, the end of such a directedness in our lives is one of the most significant.
Take the workplace for instance. Just a few months ago, I worked at a large pharmaceutical company, which ran pretty much like the clockwork you'd expect from the headquarters of a global corporation.
Now, however, I've just launched our start-up, Twizoo—an app that uses Twitter buzz to help people find the best places to eat and drink in London.
The power of pocket-sized choice
As the CEO of a start-up, my day is no longer desk-bound. At any moment, I could be writing an algorithm, giving a talk, meeting a restaurant, installing an iBeacon…. Because of technology, particularly the phone in my pocket, I can do any of the things I need to do wherever/whenever and sometimes, simultaneously. And the smartphones and tablets that allow us to be so mobile are not just for the privileged, tech-savvy few; even grandparents know their way around an iPad.
We are now in much more control of the content and media we consume, and when we consume it.
The pervasiveness of technology means that, as consumers, we expect radically different experiences than we had before. With technology, we are now in much more control of the content and media we consume, and when we consume it.
I don't have to wait to watch my favourite series; I can watch the box set on my tablet. I don't have to watch the manufactured 1-hour long TV show; I can watch something original on YouTube on the Tube. I don't have to go into the shop to buy the shoes I want; I can tap a few buttons on my phone and have them delivered at my convenience.
In many ways, the tech revolution has helped us all become more imaginative about our own life experiences, resulting in brands, agencies, and corporations struggling to keep up.
The fundamental challenge for advertisers is that consumers have likely discovered the things they're interested in buying because of peers and others on the internet, rather than from a non-descript broadcast message telling us what to do. Advertisers no longer have our attention in those forced moments, as they did just a few years ago.
With vs. at
With consumers now in the technology driver's seat, there are enormous implications for advertising and marketing. This shift not only requires a major shift in a brand's tone of voice, but also, in media choices themselves.
As marketers, we used to believe that successful messaging was the result of reach and frequency (with a bit of allowance for creativity thrown in). But now, the new world requires a partnership and two-way dialogue with the consumers we're trying to reach, and an on-demand approach that consumers expect.
Brands must adapt and align their own motivations to meet this new way of working. This isn't just true for advertising, but for products themselves.
That's why we created Twizoo, which is one of the many startups in London moving quickly to invent anew with consumers.
The idea for Twizoo started in Barcelona when I was with friends and got the unlucky assignment of finding a place for dinner. Using a PC-centric review site, I found a place that ended up being pretty terrible. In hindsight, I realised that the glowing reviews were likely composed by the manager and/or family friends.
I thought, "Why can't I rely on a data source that's more relevant and less prone to gaming of the system? Why can't I use something on my mobile that lets me see what's good instantly when I'm on the go?"
The rise of consumer-led companies
So, we embarked on creating just that. Twitter was obviously the best source of the evaluations we needed, with more than 3 million Tweets about London restaurants and pubs since January 2014 alone.
It's hard work creating the algorithms behind our recommendations and the user interface that makes sense of all that data, and we couldn't have done it without a lot of input from the people who were going to use the app—both consumers and the restaurants and pubs who are savvy enough to embrace consumer-led experiences.
Those who are jumping in head first are the ones seeing the best results.
Of course, that's a big simplification of this past year for us. And while I think Twizoo is unique, I can look at the desks next to me at our shared office space and see others creating experiences that revolutionise ticket buying, or video calls, and much more.
Most of these are driven by the direct observation, "Why can't this work better for me?" Businesses built on such a truly consumer-led proposition are quite different, and more successful in the long-run, than ones based solely on "I need to ensure my profit margin is £x."
That's why the new now is so exciting, and why for some, so daunting. But for me, and many others all over London and all around the world, starting businesses or just re-inventing how we live our day-to-day lives has only just begun. It's quite a tasty proposition if you choose to embrace it rather than reject it, because those who are jumping in head first are the ones seeing the best results.