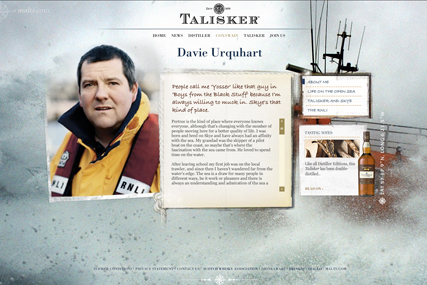 A number of Diageo roster agencies have been invited to pitch for the business, with an appointment set to be made later in the summer.
Talisker does not currently work with a retained above-the-line agency; instead, it has used its direct marketing shop EHS 4D for the majority of its advertising.
The whisky brand's advertising to date has predominantly focused on customer relationship marketing and eCRM activity, as well as sponsorship and sales promotion work.
In recent years, EHS 4D has created an online campaign that included the redevelopment of Talisker's main website. It focused on the heritage of the brand and the lives of the people working at the company's distillery on the Isle of Skye.
The agency has also created DM campaigns that promote Diageo's range of malt whisky brands, which along with Talisker includes Knockando and Caol Ila.
Talisker is produced by the Talisker distillery, which was first opened in 1830 and is the only distillery on the Isle of Skye.
Talisker currently holds a number of partnership and sponsorship deals, notably with the charity The Woodland Trust and with the annual Cowes Week regatta.