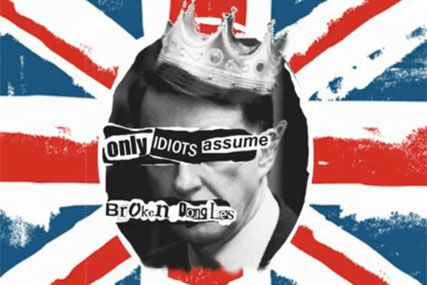 'Only Idiots Assume' written by Liam Mullone and sung by Hils Barker, is a stinging attack on the government's plans, led by business secretary Lord Mandelson, to disconnect people suspected of downloading illegal films and music online without paying for it, as part of the Digital Britain Bill.
Television personality Fry chose the song following a competition by broadband provider Talk Talk that launched an initiative to show the depth of public feeling about what it feels is the government's misguided "three strikes" proposal that will see persistent offenders blocked from sites.
Andrew Heaney, TalkTalk's executive director of strategy and regulation, said: "We wanted to tap into the outstanding creativity of the Great British public to send a clear message to the government – these laws won't work and people don't want them."
The song includes the lyrics: "What good is a computer while Mandelson is pissing on your router...if you believe in proof due process and the truth, then you can believe in this, Digital Britain no longer exists".
Fry has described it as "a wonderful package that reminds me of the high days of my youth, when punk roamed the land and the young were angry and funny and spunky and spiky".
TalkTalk's petition against the government's plans has so far received more than 32,000 signatures on the Number 10 website: http://petitions.number10.gov.uk/dontdisconnectus/.
The company has been an outspoken critic of the government's plans to disconnect people suspected of copyright infringement, arguing that such a penalty should only be imposed if guilt has been proved in a court.
Fry continues: "I'm no defender of systematic, deliberate, criminal downloading, but in my estimation, the government's proposed 'Three-Strike' Copyright Protection Law is ill-conceived, constitutionally outrageous, morally unfair and epically foolish."