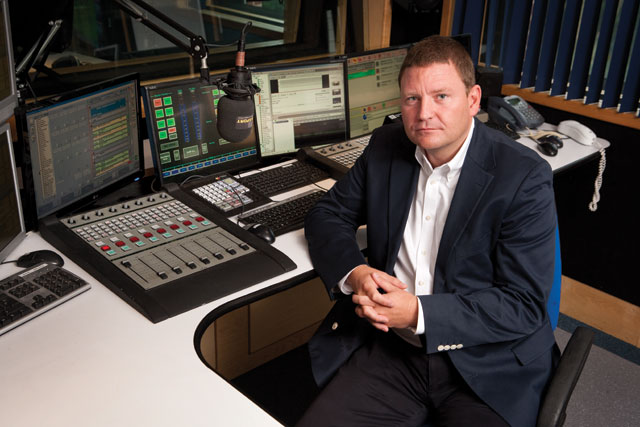 Kurt Edwards is quick to explain that he is both a keen sports fan and a talkSPORT listener. With that in mind, you can imagine taking a job as the commercial director of talkSPORT's sales house, UTV Pitch, was not a difficult decision in what his new colleagues have termed "the year of sport".
Alongside regular events such as Premier League football and the Six Nations rugby, the next 12 months include the Rugby World Cup, football's European Championship and the Olympic and Paralympic Games. "We have a fantastic year ahead, and it just seemed to be the right time to become part of the adventure," Edwards says.
Edwards, who is a Fulham FC fan, will lead a 50-strong division at UTV Pitch, selling ads across talkSPORT's national radio station, talkSPORT's online magazine and website, apps for mobile and tablet devices and the weekly free distribution magazine Sport. Edwards is full of praise for his new team, which, he says, are known for "going that extra mile".
Edwards says: "They've got a fantastic reputation. They're incredibly creative. They're nimble and I don't think they shy away from risk. They really support advertisers and make sure that clients are happy and want to come back and spend."
Edwards joins UTV Pitch in mid-October from Future Publishing, where he is the digital commercial director. He says Future has been an "absolutely fantastic" place to work and is full of "great talent". Future's digital revenues have increased by 40 per cent in the past year, Edwards says, and he seems anxious for his move to be seen positively.
Edwards has a lot of fans. "Kurt brings a fresh approach," Bruce Daisley, the sales director, YouTube and display, at Google and a former colleague, says. "He just puts a smile on people's faces and fire in their bellies. When I worked with Kurt, he had the ability to achieve incredible results. If he wasn't such a modest guy, he'd go all the way to the top somewhere - he's just an outstanding leader of people."
"Radio's always been a fun place to be," Edwards says. "Creatively, you've got a lot more freedom than other platforms because you're really able to bring personalities into it. And talkSPORT has always been quick to seize opportunities, and digital has allowed them to be even quicker. They've got ambitious plans. To be able to help them grow digitally was a real challenge to look forward to."
Radio is not a new discipline for Edwards. He was the commercial director at Kiss and the head of digital sales at Bauer Media - and its predecessor, Emap - before joining Future in 2009.
It is Edwards' combination of "traditional media" experience with a "deep knowledge of digital skills" that helped him land the role. That said, when talking about his move, Edwards gives the impression he is choosing his words carefully. "UTV Pitch is in a great place but, digitally, they want to kick on," he says. "The fact that I've worked in radio, digital and publishing just meant that it was a right fit."
TalkSPORT is still expanding digitally - the Sport iPad app and a new mobile app are imminent - and Edwards suggests that creating bespoke content could provide a new revenue stream. "When you look at the personalities that we've got across the brand, there's no reason why we can't create bespoke apps that work for key partners," he explains.
Yet, for all the talk of digital, Edwards says talkSPORT will be his primary focus as that is where the lion's share of revenue comes from. Overall, the division appears healthy and Edwards claims talkSPORT and Sport magazine are "incredibly profitable".
In May, UTV Media reported revenue at its Radio (GB) division, which is predominately talkSPORT, increased by 4 per cent year on year in the first four months of 2011, in a market down 2 per cent. The market has recovered since then, and although talkSPORT faced tough Fifa World Cup 2010 comparisons in June and July, it is expected to report solid results at the end of the month.
Edwards is not joining a company in need. The creation of the commercial director role, following the departure of the sales director, Matt Wilson, will allow the UTV Pitch managing director, Adam Bullock, to step back from day-to-day sales. We are told, tantalisingly, that Bullock will concentrate on "development and acquisitions".
If the message coming out of UTV is bullish, the fact it has been linked with buying Absolute Radio "sums up talkSPORT", Edwards says. "It's always looking for something else to invest in. If being a sports media company is what it is, future acquisitions will only grow that proposition in the market."
Agency executives say Edwards is a "great acquisition", and he is known as a "good lad" with a sense of fun. "His experience across radio and digital will enable UTV to be more future-facing," Patrick Whitnall, the business director at Starcom MediaVest Group, says. "His passion and drive make him a good leader of sales teams."
Edwards says his role will be to give the commercial team some direction. "Not that it's lacking, but carrying on the good work," he adds, mindful as ever. People who know him are unanimous in their support for his way of working and his fun-loving nature.
TalkSPORT's not a brand known for taking itself too seriously and, one imagines, both UTV Pitch and Edwards will have the last laugh.
THE LOWDOWN
Age: 39
Family: Wife Caroline, Zachary (five) and Annabel (two)
Lives: Putney, London
Favourite media: T3 on iPad, Sky Sports News and talkSPORT
Interests: Family, Fulham Football Club and more family
Last book read: Helmet For My Pillow by Robert Leckie
Motto: Enjoy what you do and be kind to people because life's too short