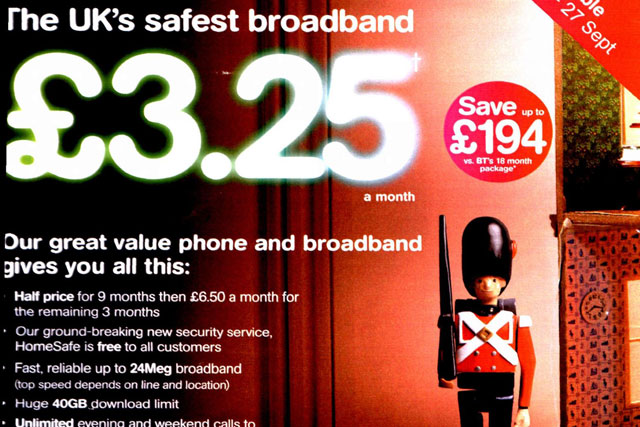 TalkTalk's national campaign, comprising television, outdoor and press activity, for the brand's HomeSafe service launched on 28 August 2011.
The campaign was created by CHI & Partners and featured a TV spot of a toy family in a dolls' house, guarded by toy soldiers with a voiceover that stated, "TalkTalk homes have the UK's safest broadband thanks to Homesafe, free for all customers".
BT and two members of the public contacted the Advertising Standards Authority (ASA) to complain that the safest broadband claim was misleading.
TalkTalk defended itself by saying it was the only home broadband provider to offer security features that were applied at a network level, rather than to individual devices.
Customers of other broadband providers have to download security packages onto their individual devices, while some devices such as Apple Mac computers, games consoles or smart phones were not compatible with these download packages.
In contrast, TalkTalk's HomeSafe service applies to any device and does not have to be installed as a separate package.
The ASA noted HomeSafe offered three features, which included content restriction, virus alerts and a feature that allows parents to restrict access to social networking and gaming sites during certain times of day.
It accepted TalkTalk was the only home broadband provider to offer security features at a network level, but said the ad campaign implied customers would enjoy the safest online experience using TalkTalk broadband.
As a result, the ASA believed customers would interpret "safest" as referring to additional features including virus protection and protection from hacking rather than the basic features offered by HomeSafe.
The ASA ruled that the ad should be banned because TalkTalk was not able to substantiate claims that customers would enjoy the safest online experience with its broadband service.
Follow Matthew Chapman at @mattchapmanUK