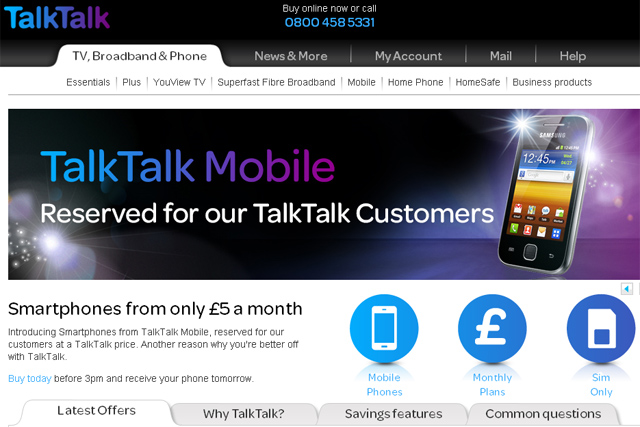 The network operator has just launched TalkTalk Mobile, offering smartphone deals for its customers for the first time. TalkTalk already offers SIM card only plans, through a deal with Vodafone.
TalkTalk claims to have stripped out unnecessary costs so that all handsets will be free and plans start from £5 a month. The three contracts on offer are Small, Medium and Large.
TalkTalk is also offering double the data allowance for customers who buy a contract on the newly launched TalkTalk Mobile site.
For example, the Small plan offers 100 minutes, 250 texts and 100Mb data - or 200Mb data when you sign up online.
Samsung Galaxy Y and three Nokia smartphones are available on the £5 plan. In total there will be 50 handsets available from manufacturers including BlackBerry, Sony and HTC.
It will not be offering the iPhone because it is looking to offer better value for customers.
It is targeting families with the launch, making all calls between TalkTalk mobiles in the household and landlines free.
Tristia Clarke, commercial director of TalkTalk, said: "If you look at phone and broadband packages, they're cheaper now than they were five years ago. TalkTalk led the way in bringing better value to the market and we're doing it again with our mobile offers, saving customers even more."
TalkTalk is looking to boost average revenue per user through the move into mobile, which will see it take on Virgin Media, which offers landline, broadband and mobile contracts.
"We want to do in mobile what we did in broadband," said Clarke "and that's to bring greater competition and choice and offer the best value to our customers."
The offering will be supported by a marketing campaign, details of which are yet to be confirmed.
At the start of this year, TalkTalk poached O2's head of direct trading Dan Meader as mobile director as it geared up for the push.
The mobile launch comes as TalkTalk is moving into TV, with its YouView service, which is open to pre-registration and will arrive for customers this autumn.
Follow @shearmans