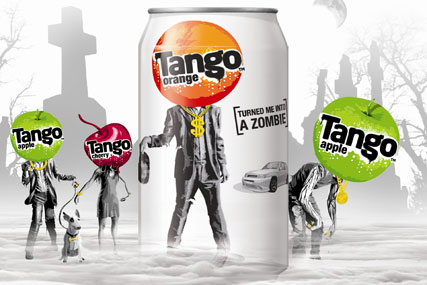 The drinks brand said it is going to make an attempt to be the festival's "official sponsor" in a "tongue-in-cheek" gesture and by upping its long-standing side-effects campaign.
From October all 330ml and two litre packs will highlight the symptoms of Tango consumption with the strapline "Too much Tango turns you into a zombie" and will feature a collectable zombie design created by branding agency Blue Marlin.
A flash-on pack will communicate to consumers the partnership alongside the call to action – "Don't be seen dead drinking anything else".
Zombie PR events will also take place during October and will feature on both www.facebook.com/youvebeentangoed and www.youtube.com/tango.
Adam Goodger, tango senior brand manager, said: "Increasingly Halloween is providing a big opportunity for retailers to boost their sales. From having a carefully planned Halloween party to a big night in with a scary film, Halloween is a perfect fit for Tango with its so-called sponsorship and limited edition packaging."
Procter & Gamble brand Pringles is also launching a limited edition can with spooky artwork to celebrate Halloween. The limited edition Sour Scream & Onion will be available from 13 September.
Paul Lettice, trade communications manager at P&G, said: "Halloween is becoming increasingly popular with UK consumers and it often becomes a social event with friends, so as the UK's favourite large sharing snack, Sour Scream & Onion Pringles will be the perfect accompaniment for parties.
"Retailers should ensure they have a good stock of limited edition Pringles, as well as a clear fixture with other 'night in' and themed essentials to make the most of the potential sales opportunity Halloween presents."