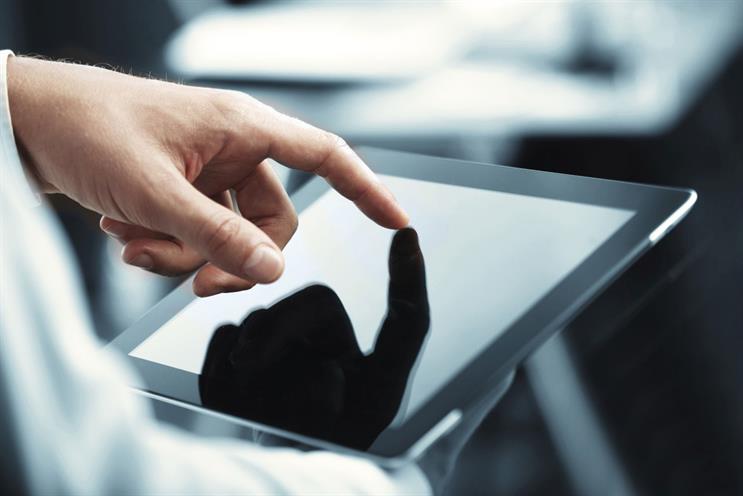 In 2014, there will be more mobile devices on the planet than people – some seven billion. The rise of the tablet is helping to drive this explosion, powering everything from product recommendation to inspiration by way of a highly pleasurable and addictive consumer experience.
Market data tells us that average tablet basket sizes are now larger than on a desktop PC or laptop. With tablet sales also set to outstrip PC sales next year, a fundamental shift in how people consume media is already with us. This isn't just a like-for-like shift from one device to another – behaviour has changed too.
Consumers want to be entertained, informed and inspired on tablets. The data is compelling: massive increases in both daily usage of one hour or more (87 per cent) and likelihood of downloading branded apps (81 per cent). Most websites get about 30 per cent of their traffic from mobile devices and the vast majority of mobile revenue comes from tablets (89 per cent). To boot, a third of the UK adult population already owns a tablet – and all this from a market that didn't even exist four years ago.
Customer habits on tablets are also changing rapidly. The home-based "couch and pillow commerce" lean-back experience still peaks at 8-9pm and is now complemented by a more nuanced balance of content consumption and commercial activity throughout the day.
In the UK, banking activity is a peak tablet activity at 9am, with news consumption leading at midday. For many, this is a lean-back, print-like experience. And herein lies a big opportunity for brands – many of which will already have some kind of content strategy, be it via social media or even printed magazines.
Brands that don't embrace this explosion, and the opportunity it offers to talk directly to customers who are already engaged, will struggle. Agencies that don't create and execute effective tablet strategies that drive customers to interact with these brands fast enough are at risk of being irrelevant a year from now.
For brands, it has never been easier to develop compelling content on tablets. It took the internet 15 years to go from dial-up modems and early HTML to the web 2.0 publishing and social connectivity of Tumblr and Twitter. Tablets have been through that cycle of innovation in a third of the time. The early, expensive "dumb apps" are long dead. The first generation of magazine publishing tools, such as Issuu and Ceros, took brand content from existing PDFs of print publications. Our own publishing platform, TAB, takes social, curated and existing brand content to tablet and beyond. Other solutions, such as Flipboard, produce brand content within their own magazine platform in an elegant way.
Whatever the solution, agencies must remain trusted partners in understanding how, why and where consumers are interacting with these devices. For many agencies, the word "content" is synonymous with film – and while video viewing, especially for long form, is a prime use of tablets, the magazine-reading experience is also a major use.
Our agency expertise is in distilling this knowledge into actionable plans. Knowing these technologies and their effect on consumer behaviour inside out is what we must do to offer real value.
Agencies need to shape up to the new rules of technology. The tablet creative and development ecosystem is incredibly healthy in the UK right now. Start-up support from major brand initiatives such as Microsoft's BizSpark and events including App Hackfest are complemented by tech collaboration spaces such as Level39. This is helping to create an environment where lean, customer-first tablet, app and tech companies can thrive.
In many cases, they are stealing work from right under the big agencies' noses and then demanding (and sometimes getting) huge multiples when the big boys try to buy them out. It is from this culture that agencies can listen and learn while having the benefit of avoiding being surpassed by these new entrants in the near future.
Agencies need to take note of the new development platforms, technologies and tools being created that are driving the tablet app economy and fully embrace the technology ecosystem that threatens to engulf them. Take the lead from Antony Mayfield of Brilliant Noise: "Agencies need to innovate to become more like start-ups before start-ups become them."

Roy Murphy is the co-founder of The Tablet Business