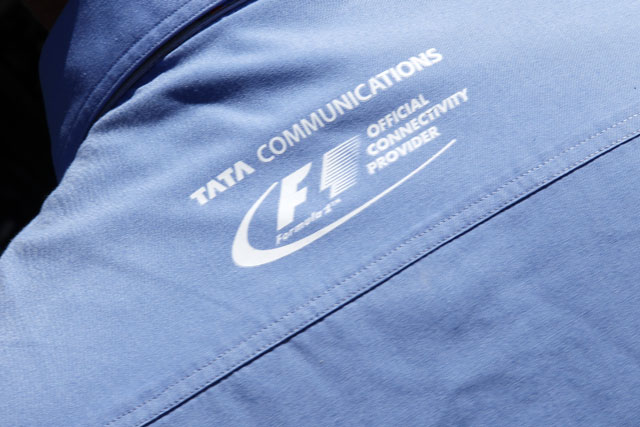 Ask a consumer on the street whether they have heard of brands such as Visa, Paypal, Bacs, IBM and Cisco and the replies will be mostly in the affirmative.
Ask them whether they have heard of Tata Communications and a more likely response would be a shake of the head.
But like Visa, Paypal et al, Tata Communications stands in the ranks of B2B brands enjoying a consumer profile; and its newly-signed association with the world's leading motor sport looks set to raise that status even higher.
In February last year Tata Communications – the data and telecommunications network part of Indian conglomerate and Jaguar-Land Rover-owner Tata Group – signed a deal to provide Formula One with content and data delivery services to race teams, broadcasters and the Formula One website.
Growing awareness
While its provision of the technology powering the huge volume of data at Grand Prix races acts as the ultimate showcase of Tata Communications' capabilities to prospective B2B clients, the deal has also led to a growing awareness of the brand from a consumer perspective.
"Our brand appears on the Formula One website," says Julie Woods-Moss, chief marketing officer of Tata Communications, who has previously worked at firms including IBM and BT.
"We're the official connectivity provider, the official content distribution partner and the official hosting partner," she says. "So we're on a website which gets at peak weekend 7m hits per race. We're on the clothing of the Formula One crew [around 180 engineers and technical tech staff at every race]. And then the technical centre is branded Tata Communications, and sometimes viewers will see it when Sky's cameras sweep over it."
Woods-Moss joined Tata officially in September 2012, although she had been working as a consultant for the group for ten months before that, involved in the setting up of the F1 agreement.
"When Tata did the deal with Formula One, the CEO said: 'Can you come and help us?'" After working for the firm a "couple days a week, one thing led to another and in the summer he asked whether I'd join them."
New position
As chief marketer, Woods-Moss works with Tata Communications' main agency, McCann, and is in the process of devising a new position for the brand.
"I think we've come up with some great campaign plans but we're very close to having a very special brand platform," she says.
One in four voice calls everywhere in the world is supported by Tata Communications' infrastructure and the group manages about 20% of the global internet.
Currently, Tata Communications' modest brand profile belies the scale of its involvement in telecommunications and digital.
According to Woods-Moss, one in four voice calls everywhere in the world is supported by Tata Communications' infrastructure and the group manages about 20% of the global internet. And yet the brand was relatively unknown in the enterprise world.
"In the corporate world, a CIO (chief information officer) or CEO of a big bank or oil company or retailer wouldn't have known Tata Communications, although they would have known Tata Group reasonably well," she says.
"We need to build the brand and need to build credibility in a world where our services are invisible you don't see what we can do."
Ultimate showcase
The deal struck with Formula One is an assertive step in that direction and acts as the "ultimate showcase" for Tata Communications.
"We wanted them as a big global reference so we could take senior executives and say, here's one of the most intense operating environments in the world," says Woods-Moss. "Of course it's not identical to yours. But this company trusts us. If we fail, nobody sees the race. And that's 700m fans every other weekend for 40 weeks of the year."
Inevitably Tata's exposure at one of the globe's leading sports begs the question: does Tata Communications have consumer aspirations and can we expect to see consumer-targeted marketing in the UK? "Don't hold your breath," Woods-Moss says.
That said, much of Tata Communications' marketing will inevitably hit consumers. Its target market is CIOs at big corporations, an audience it will use its association with Formula One to reach.
"It's a close relationship and they're developing their strategy beyond the dotcom," Woods-Moss says. "We'll be at the table looking for opportunities to collaborate.
"What that means in terms of the brand – ultimately it'll be the Formula One brand and whether we're smart enough to get some brand equity in it will be all about have we got a service that's credibly additive."