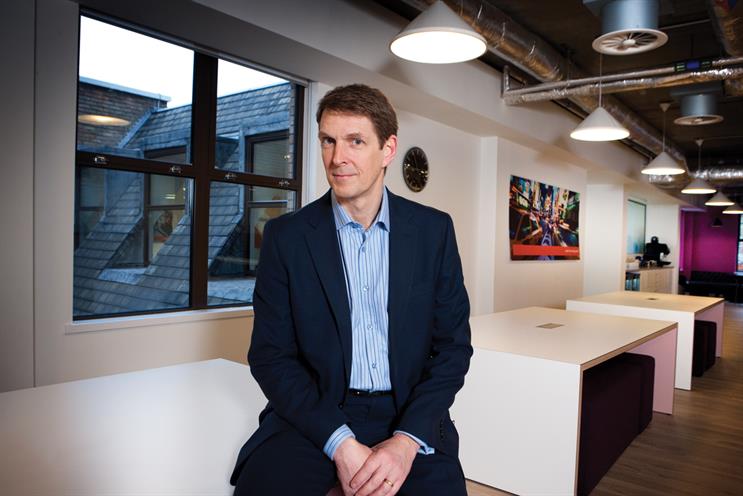 Stuart Taylor is happy to be here. Not just here, freshly ensconced in Kinetic's office in Bloomsbury, where he can't even find the milk; actually grateful to be alive. Like something out of a Jason Bourne movie, last weekend, after a seven-month break, he was driving back from his second home in France when the car skidded on ice and flipped over down a ravine. Thankfully, he and his wife escaped unhurt, but it has given him a renewed appreciation of life.
After just one day to recover, Taylor started his new role as the UK chief executive of WPP's out-of-home agency Kinetic. The former GMG Radio chief executive will be in charge of a 140-strong team, managing the outdoor planning and buying (to various degrees) for WPP media agencies, Starcom MediaVest Group and direct clients such as British Airways.
Taylor has arrived as the outdoor industry enters an interesting time. Kinetic's main rival, Posterscope, is to lose the £140 million outdoor buying business for Omnicom Media Group to the relatively tiny Talon Outdoor at the end of March. Taylor declines to comment on the move, but it could be a good thing for Kinetic – although he would be far too gentlemanly to ever put it like that.
While Taylor is reluctant to delve straight into controversial outdoor issues, he is full of praise for the "professional and intelligent" colleagues he has met in his short time at the agency. "Kinetic has a track record of insight, thought creation, research and value creation for the many clients and agencies we work with," he explains. "It is a very exciting proposition to lead that UK team."
After 25 years at media owners, it is the first time Taylor has worked on the agency side. And an outdoor specialist at that. He says the change was something that attracted him to the job; he wanted his next role to be "additive" to his career. Being part of the giant WPP was another draw, as was being part of a global network.
Carolyn McCall, the chief executive of easyJet and former chief executive of Guardian Media Group, remembers it was this desire to learn that contributed to his move to radio after he missed out on the managing director job at Guardian News & Media to Tim Brooks. After working in newspapers and magazines, he was "very keen to learn and do something different," she says.
McCall and the former GMG Radio chief executive John Myers appointed Taylor as the commercial director at GMG Radio in 2007 as they knew Myers "wasn't going to be there forever". It was not long before Taylor replaced Myers and joined the GMG board. He restructured the business and would have continued to run it if Global Radio had not been such a determined suitor.
After working in a world where the switch to digital is complicated, moving to out-of-home will be a refreshing change. "Digital is proving and will continue to prove to be additive to out-of-home media," Taylor explains. "It's not destructive. Where it's completely changing newspapers and magazines, with out-of-home, it's all positive complexity."
Digital is proving and will continue to prove to be additive to out-of-home media. It's not destructive
Eager not to offend his new staff, Taylor does not want to talk about specific plans. And it is just this decency that has won him admirers in the industry. He is a devoted family man who likes all the classic grown-up things (cooking, good red wine, skiing, cycling and golf), yet friends say he is not anywhere near as sensible as that makes him sound.
"He's so ambassadorial you can get the impression he's nowhere near as funny as he is," McCall says. "He's absolutely fantastic. He's got great energy and is a team player. He's really good to have on your side and good to work with. He's a real all-rounder."
Kinetic has been without a UK leader since James Copley left in June last year, so top of Taylor's list should be boosting morale within senior management, which sources suggest has waned in the subsequent months. Yet, if Kinetic's 2011 global accounts at Companies House (the most recent available) are anything to go by, revenue is on the rise.
Taylor is sure to bring an interesting perspective to Kinetic. Alongside his former protégé Chris Pelekanou and his new Clear Channel boss, Matthew Dearden, there is a different feel to outdoor these days. You get the idea that it will not be just Taylor and his family (and many friends) who will benefit from him having such a lucky escape that fateful snowy Sunday.