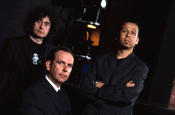 The two businesses had reached the advanced stage of talks, and it is thought that TBWA had tabled an offer that the BMB founders, Trevor Beattie, Andrew McGuinness and Bil Bungay, were deciding whether or not to accept.

Senior BMB sources told Campaign that it had turned the offer down, but executives from TBWA\Worldwide, which is run by Tom Carroll, the chief executive, are also claiming that it pulled out of the deal, saying that the price tag was too steep.

Leaked news of the proposed deal emerged two weeks ago and has since caused turmoil at the TBWA\London office. It is still unclear whether Tim Lindsay, the UK group chairman, and the rest of the senior management team will remain at the agency.

Beattie said: "We're not doing the deal because it wouldn't be right for BMB."

Keith Smith, the president, international at TBWA\Worldwide, said: "Holding companies and agencies often talk to potential acquisition targets and this is no different, except for the fact that Trevor and Andrew are old friends. We are concentrating on building our business on the back of the successful new business pitches that TBWA has had in the past 3 months, National Express and Sony Retail."