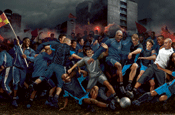 Based in Amsterdam, it will be headed by Colleen DeCourcy, TBWA's global digital creative director, who will relocate from New York to the Dutch capital, and Chris Mendola, the founder of 180.

Similar to WPP's Team HSBC offering, it will bring together businesses and talent from around the TBWA\ network and the wider Omnicom group, including 180, to service the sportswear manufacturer's business.

The global digital Adidas account was won in August 2008 by a collection of Omnicom agencies that included TBWA\ and 180.

The network is understood to have beaten Avenue A|Razorfish, Droga 5 and Isobar in a final pitch.

The digital win came a week after 180 lost a pitch for Adidas' global running account.

The business, on which 180 was the incumbent agency, was handed to iris worldwide, which will now manage strategy, advertising, retail and experiential marketing for the brand's running products.

Last month, Adidas announced it would take part in a new initiative with Facebook in the US that will see the social networking site trialling an interactive advertising service.