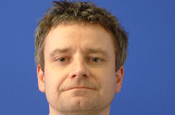 Young will report to the executive creative director Steve Henry, who he worked with at HHCL, and look at new revenue streams for TBWA outside of traditional advertising.

He joins one month after the departure of Tony McTear, the TBWA joint creative director, who will not be directly replaced. The other joint creative director, Danny Brooke-Taylor, remains in place.

As well as McTear, TBWA has lost several members of senior staff in recent months. At the end of June, it emerged that Victoria Davies, its managing director, and head of account management, Suzie Shaw, had both resigned.

The roles of Tracie Stokes, its head of TV and Dick Butler, its vice chairman, are also now understood to be under review. TBWA\London declined to comment.

Young joins from the brand consultancy What If, where he has worked for over a year. Before that, he was an executive creative director at FCB working across clients including Waitrose, Nivea and SC Johnson.

Henry said: "Al is an exceptional creative talent and radical thinker who understands all aspects of marketing. And he can write great funny stuff too."

Young added: "Out of all the approaches I've had to rejoin advertising, TBWA has easily the smartest, most credible vision of advertising's future."