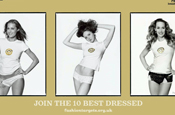 The agency has been briefed to develop a digitally led creative proposition for its Fashion Targets Breast Cancer campaign with the aim of helping it reach its 2009 income target of £800,000.

In recent years, the charity's campaigns have used TV and poster executions but the new push will run principally online, supported by some limited poster work.

Launching in April 2009, the campaign will be aimed at women who shop online and have an interest in fashion.

Adam Colling, the head of corporate partnerships at Breakthrough, said: "We are looking for a completely unconventional approach to this campaign and our media strategy requires a fully integrated agency with a strong digital arm and TBWA\London can give us that."

The incumbent on the account was Dye Holloway Murray, which created a campaign for the charity in 2008.