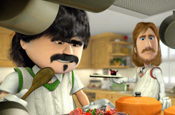 The agency pitched against DDB London for the business, which will include digital activity, as well as above-the-line campaigns.

Fallon and Publicis were involved at an earlier stage of the contest but withdrew before the pitch.

Leo Burnett previously handled the EBLEX business but resigned the account in December last year. It had worked on the account since June 2004.

In 2005, Burnett introduced the "Beefy" and "Lamby" characters based on the cricketers Sir Ian Botham and Allan Lamb.

The TV campaign formed part of a £4.5 million push by EBLEX to promote the introduction of the Quality Standard Mark. Its most recent TV spot launched in 2007 and featured Lamby trying to discern which was the real Beefy from two identical clones.

The Quality Standard Mark was launched as a means of informing consumers which beef and lamb products met EBLEX's strict standards regarding the farming and supply chains of meat products.

The mark also acts as indicator of origin, with animals born, raised and slaughtered in England carrying the St George's flag, while Scottish and Welsh meat bears the Union flag.

The appointment does not affect DDB's hold on the advertising account for the British Pig Executive, the body responsible for the Quality Standard Mark for pork products.