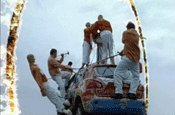 The virals feature fictional stunt teams competing in the Spanner League, which sees the groups perform surreal and extreme stunts in (or on) Nissan cars, with varying degrees of success.
The first series of executions features the Thai Musical Stunt Team, which comprises misfit musicians who strap themselves to Nissan cars and allow a dog to drive them up a ramp and through a ring of fire.
Further virals will follow the stunts of a diehard Flemish team, a Polish team, and the Matonge team from Africa.
Each film drives viewers to a blog at blog.spannerleague.com, where fans will be kept up-to-date on the death-defying stunts.