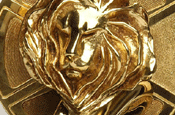 The ad, which is made with the actual blood of the New Zealand All Blacks Rugby team, also picked up a Lion.
Geraldo Rocha Azevedo, the jury president and the president of integrated solutions at Neogama BBH in Sao Paulo, said: "By actually using the blood of the team the work presented this year's best way of successfully bonding with the consumers it was trying to reach."
However, the award threw up a major debate on whether charity work should be able to receive the Grand Prix.
Many of the jury members thought that an ad called Earth Hour for the WWF by Leo Burnett Sydney, which picked up two Lions, should have taken the top honours. However, Cannes Lions rules do not permit charity work to be awarded the Grand Prix.
New Zealand and Australia were the runaway winners in the Promo category, with the countries picking up five Lions and three Lions respectively.
Not a single UK agency picked up a Lion. Cordell Burke, juror and the executive creative director at Tequila\London, said: "First, there wasn't a massive amount of UK entries, which is disappointing, and second, the ones that were sent in could not compete with the rest of the entries from around the world.
"The UK industry is characterised by restrictions that do not seem to be in place in other countries, hopefully agencies and clients will take note of these results and work together to improve our input at next year's festival."