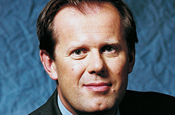 Streiff's previous role covered Europe, Asia, Africa and the Middle East.

He began his career at the law firm Bureau Francis Lefebvre in the international tax department before moving to New York in 1994 to join the Omnicom Group as an assistant treasurer. He joined TBWA in 1998.

Tom Carroll, the president and chief executive of TBWA Worldwide, said: "Denis has a real passion for the work we do, knows our network and our clients, along with all the energy and the skills required to help lead us to success.

"His contributions as our international CFO over the past ten years have been instrumental in the phenomenal growth our network has experienced."