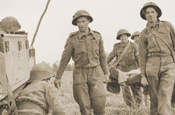 The charity, which provides support for blind and seriously visually impaired ex-servicemen and women, is marking the 90th anniversary of the end of World War I with a "flag-planting" ceremony, held at St Dunstan's Ovingdean Centre at the beginning of November.
TDA has created a direct mail pack to support the event, which includes a flag that people can inscribe with a personal message of tribute to those who fought in the war, and return to the charity with or without a donation.
As part of the campaign, TDA is also hoping to boost cold donor acquisition with door-drops and inserts that will appear in publications including The Spectator, The Week and the Radio Times.
The inserts will focus on younger people who have suffered sight problems after serving in the Forces, as well as World War veterans.
Jamie Taylor, a senior account director at TDA, said: "We have developed carefully tailored propositions and creative work that we believe will make a real impact. St Dunstan's has undertaken a significant shift in focus with these campaigns, and we are confident that they will work powerfully to generate income."