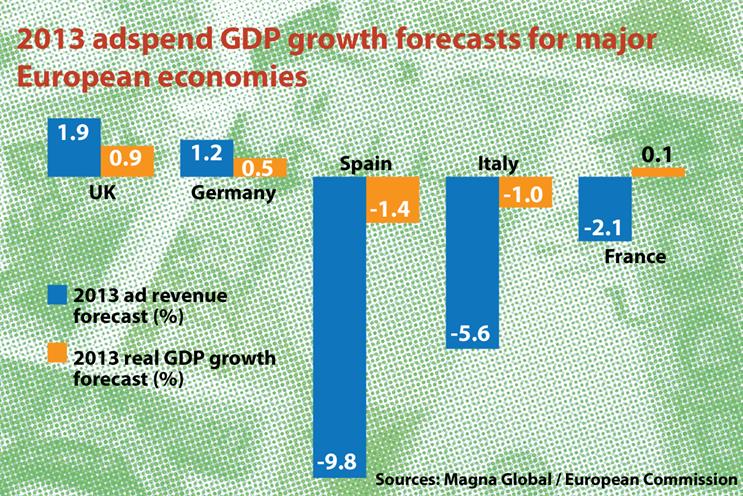 In the UK over the past few years, we've taken some consolation in the notion that, bad as things might be under the chancellorship of George Osborne, at least we're not in the eurozone, where economic basket cases now abound.
Of course, hosting the 2012 Olympic and Paralympic Games helped lift the spirits, although the BBC's major role certainly restricted any discernible boost to commercial media.
But the latest forecasts provide more reason for confidence going forward – one from the European Commission on the general economic outlook, and the other from Interpublic's research arm, Magna Global, on the advertising market.
The former takes a slightly disapproving tone towards the UK economy's recent yo-yo tendencies (up almost 1 per cent in the third quarter, down slightly in the fourth), but states that the UK is likely to experience the strongest GDP growth (0.9 per cent) among major European economies in 2013. Germany will grow by 0.5 per cent. France, Spain and Italy will still be (this is a lovely euphemism) "rebalancing" (in other words, flatlining, at best).
The Magna Global ad market figures roughly shadow the general European Commission prognosis, and are actually even rosier for the UK. Media-owner revenues are expected to grow 1.9 per cent year on year in the UK, compared with 1.2 per cent in Germany. But spare a thought for Spain, set for a 9.8 per cent shrinkage, and Italy, destined for a 5.6 per cent contraction.
Are the Magna Global figures reliable? Well, they certainly seem to be roughly in line with figures from rival sources ZenithOptimedia and Group M – indeed, the latter expects UK ad market growth in excess of 3 per cent.
So why are we doing relatively well? Vincent Letang, the executive vice-president and director of global forecasting at Magna Global, says our enthusiasm for new technology will be reflected in substantial marketing budgets for all things 4G this year – and he also believes that there was unsatisfied demand last year. The Olympics may have been good for the BBC, but not necessarily good for the advertising economy.
"A return to a normal schedule after a busy and unpredictable audience pattern in 2012 may prompt several advertisers and categories to return to higher spending levels," he explains.
Adam Smith, the futures director at Group M, adds that, compared with our continental rivals, a greater proportion of UK adspend is now in online and mobile – sectors where growth prospects are strongest. Our advertising sector, he adds, is innovative, productive and competitive.
Meanwhile, one of the more interesting insights offered by the Magna Global forecast is that small amounts of GDP deflation can lead to huge setbacks in a country's advertising sector and, conversely, you need to see GDP growth of above 1 or 2 per cent to see any ad market growth at all.
Perhaps the lesson is that we should learn to count our blessings – we really may have dodged a bullet here.
In contrast, the media markets of continental Europe will probably continue to live with brutal economic reality. Smith notes: "The US can, and probably will, grow its way out of the present crisis, the UK conceivably might, but the eurozone cannot – not while it wages what resembles economic civil war."