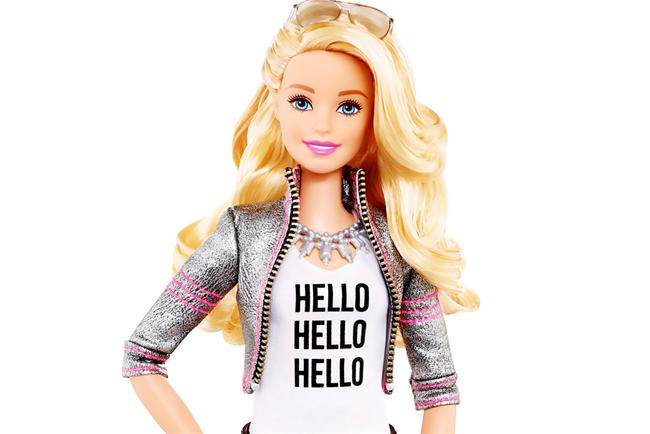 US privacy advocates slam "creepy" talking Hello Barbie
In an effort to revive sales of its flagship doll brand, toy manufacturer Mattel has seen fit to give Barbie voice-recognition software that can respond to commands and phrases. The idea is to make the usually passive plaything more interactive.
The wi-fi-enabled Barbie, which was developed by start-up ToyTalk, contains a microphone, speaker and small embedded PC that records speech. Scripted responses help the doll to determine its reply. It is designed to learn a child's likes and dislikes over time, and incorporate them into conversation.
However, US privacy activists have branded the doll "concerning" and "creepy", since it records children's speech and sends that to the cloud. Mattel and ToyTalk said security is their top priority.
Smart headband can power thought-controlled beer tap
Canadian start-up InteraXon has launched its Muse headband in the UK. The stylish wearable reads the wearer's brain patterns to determine how calm they are.
The EEG headband contains multiple sensors that track the wearer's brain activity over a session lasting about 10 minutes.
Though the band is intended as a mindfulness device akin to a meditation aid, InteraXon has dreamed up further, more fun uses for it, such as controlling a beer tap, or turning on the lights, by the power of thought.
iPhone users become the new white mice
While bona fide techies tend to dislike the idea of the entire world relying on proprietary platforms – like Windows – there are benefits to having millions of people using the same service.
During the recent launch of the Apple Watch, chief executive Tim Cook announced that Apple had sold 700m iPhones to date.
That doesn't necessarily mean 700m individuals, but still marks a sizeable chunk of the global population.
In a philanthropic move, Apple has decided to mobilise that giant network of iOS users for healthcare research, with a new service called ResearchKit.
This allows iPhone users to sign up for different medical-research apps, and participate in tests for diseases including Parkinson's and diabetes.
Google gets into wireless internet
Not content with providing services that include search, email, social media and adverti­sing, smartphones and tablets, Google wants to provide the service that powers all of them – wireless internet.
Sundar Pichai, senior vice-president for Android, Chrome and Google Apps, confirmed that the company will launch a "small-scale" service to see "what's possible".
That does not mean Google will be opening exchanges and laying cables as per its Google Fiber broadband service. Instead, it will buy spectrum from other US carriers such as AT&T and resell it to consumers.
Rumours suggest that the wireless network will work only on Google's own-brand smartphone, the Nexus 6.
Juice brand invents robot that feeds runners tomatoes
Japanese juice brand Kagome has built Tomatan, a cartoonish robot device that sits on the wearer's shoulders and feeds them tomatoes through a pipe.
In a hilarious promotional video, Kagome claims consumers do not eat enough tomatoes while on the go, despite their nutritional benefits.
The company bemoans the status of bananas as the portable commuter fruit, before unveiling its solution – the smiling, wearable Tomatan.
One runner took part in the full Tokyo Marathon earlier this year while wearing a lighter version of the robot, called Petit-Tomaton. We can only hope Innocent comes up with something similar for this month's Virgin Money London Marathon.
Ford's e-bikes reinvent the commute
Bicycles may not be natural territory for the petrolheads at Ford, but the company is thinking hard about smart cities and where the future of transport lies.
The automotive brand showed off two e-bikes at Mobile World Congress, as part of its wider Smart Mobility initiative.
Each bike features a 200W motor, to get cyclists through the city faster, and can monitor the rider's heart rate.
The cycles are also equipped with sensors that can tell the rider when to turn, via haptic vibrations on the handlebars, or warn them when another vehicle is too close.
STAT ATTACK 0.04%
The current market penetration of wearable technology, according to LG's head of business development, Justin Jungsup Lee.